This is an archived article and the information in the article may be outdated. Please look at the time stamp on the story to see when it was last updated.
The scene of a suspicious package in Los Feliz that prompted a police response and evacuations Thursday evening has been cleared.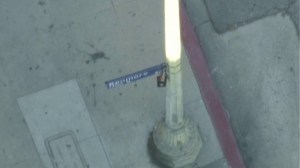 The package, described as a "camera bag," was found on a light post in the 1700 block of North Kenmore Avenue (map) at 5:30 p.m., Officer Nuria Vanegas with the Los Angeles Police Department said.
A huge perimeter was set up in the area, Venegas added.
The area, which is about two blocks west of Barnsdall Park, appeared to be completely empty shortly after 6 p.m., aerial video showed.
A robot was used to detonate the device, video from the scene showed.
It was not immediately clear what the device was, but police cleared the scene a short time later, according to the video.
No injuries were reported.