This is an archived article and the information in the article may be outdated. Please look at the time stamp on the story to see when it was last updated.
Hours after initially being spotted in a residential part of Granada Hills, a bear roaming through the neighborhood was finally tranquilized and captured on Tuesday afternoon.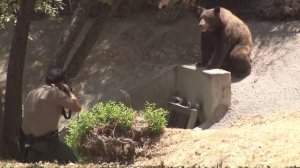 LAPD units responded to the area about 10:30 a.m. after receiving a radio call of a bear in front of a home, according to Los Angeles Police Department Capt. Steve Lurie.
About five units were dispatched to follow the bear, he said.  Meanwhile, police contacted the California Department of Fish and Wildlife about the incident, and they sent several wardens to deal with the animal.
The bear had a red tag on his ear, meaning he was spotted in a residential neighborhood at least once before, Lurie noted.
As officials monitored the animal, police tweeted that residents in the 16000 and 17000 block of Timber Ridge Road should remain in their homes.
The bear was subsequently located about a couple of blocks away, in the 13000 block of Whistler Avenue, not far from Orozco Street, according to LAPD.
Sky5 first spotted the bear underneath a tree outside of a single-story home around 11:30 a.m., aerial video showed. The large animal appeared to be resting in a shaded area before later scurrying off.
"At different times, the bear went to a neighbor's swimming pool to cool off and splash around, and then would walk in this wash," Lurie said, gesturing to an area ahead of him.
Our guest in Granada Hills today. Remember, when officers ask you to stay inside, please follow their directions. While adorable, these bears are still wild animals. pic.twitter.com/Srs02tMP5l

— Captain Steve Lurie (@LAPDLurie) July 17, 2018
At one point, the bear disappeared into the tunnel of a drainage ditch while officials staked out both ends, looking for signs of the animal.
The bear briefly popped his head out of one of the tunnels before walking into another one; he exited the culvert and started roaming near homes again a short time after that.
Then, just after 1:15 p.m., the bear was sitting at the edge of the wash when a warden fired at a tranquilizer dart at the animal, hitting his upper left leg, video from the scene showed.
The bear wandered around for a brief period of time before appearing to fall asleep in some nearby bushes. Officials then took the drowsy animal to an awaiting truck, where he was driven away.
Lurie said the bear would be relocated to somewhere in the Angeles National Forest.
He urged anyone who sees an animal such as a bear to contact local authorities right away.
"Bottom line is, if you see wildlife in your neighborhood, in your yard, call 911," Lurie said. "Don't approach the animals and let the professionals from Fish and Wildlife take care of it like they did today."