This is an archived article and the information in the article may be outdated. Please look at the time stamp on the story to see when it was last updated.
A male rapper and a female dancer were found dead inside an apartment in a high-end residential complex near The Grove in an apparent murder-suicide that drew a SWAT team response Monday morning, authorities said.
The two people found dead were identified as  34-year-old Earl Warren Hayes and his wife, 30-year-old Stephanie Elyse Moseley, according to a news release from the Los Angeles Police Department. A family member had earlier said Hayes was 31 years old.
An initial investigation indicated that Hayes fatally shot Moseley before taking his own life, the LAPD said.
Hayes, a rapper, was an associate of professional boxer Floyd Mayweather Jr.  Moseley was a dancer and actress in the cast of the VH1 drama series "Hit the Floor" about NBA cheerleaders.
In a statement, the network said it was "incredibly saddened to hear the news" of Moseley's death.
"VH1 and the the entire 'Hit the Floor' family send our thoughts and condolences to her family and friends in this difficult time," the statement said.
The couple was initially identified outside the scene at the Palazzo East apartments by Burrell Wilks, who described himself as Hayes' life coach and close friend.
"He was a great entertainer," Wilks said of the hip-hop artist. "He worked with the likes of Dr. Dre, Timbaland, Swizz Beatz, Alicia Keys."
Mourners were posting "RIP" messages to both Hayes and Moseley social media accounts Monday.
The incident took place within a large, upscale apartment complex in the 6000 block of West Third Street (map) in Los Angeles' Fairfax District.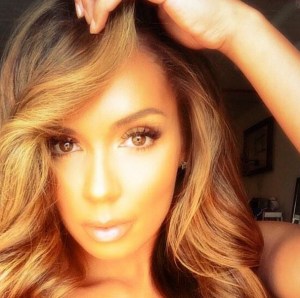 Officers were called to the scene about 7:30 a.m. by a resident of the Palazzo East after the individual heard a woman screaming and up to 10 gunshots, LAPD officials said.
When patrol officers entered the apartment building, they contacted the caller and decided to enter the apartment where the screams and shots were heard, LAPD Capt. Ron Leslie said.
Inside the apartment, officers found a back bedroom door closed. When they sought to go into the room, they heard two more gunshots, police said.
A SWAT team later entered the room and found the two bodies inside.
Family members and friends who arrived at the apartment complex said the married couple had been having problems.
"No situation's perfect," said Eva Marcille Pigford, Moseley's friend and fellow model. However, Pigford said, she was aware of "nothing [that would] lead to this."
"Stephanie was an absolute angel. She really was. … She brought so many people into my life. She's connected so many people," Pigford added. "She's just loved. She will never, ever, ever, ever be forgotten."
Hayes, friends said, was not violent, and the outcome shocked them.
"No one seen this coming — because, again, Hayes is not a violent guy," Wilks said. "We're all devastated. We're at a loss for words on this one."
KTLA's Jennifer Thang and John A. Moreno contributed to this article.
More Video: