This is an archived article and the information in the article may be outdated. Please look at the time stamp on the story to see when it was last updated.
Police surrounded a Mid-City home in the same neighborhood where a triple shooting left one person dead and two hospitalized Wednesday.
The shooting was reported in the 3100 block of Helms Place just after 9 a.m., according to Officer Jack Richter of the Los Angeles Police Department.
Three male Hispanics were walking in the area when they were approached by two people wearing dark-colored clothing, Richter said.
There was no word on whether the groups exchanged words prior to the shooting.
The three shooting victims were taken to an area hospital in critical condition, according to Richter. One person died, one was still in critical condition and a third was stable with serious injuries, police on scene later said.
Police were searching for two male Hispanics who fled the scene, Richter said. About 4 1/2 hours later, police were still looking for the gunmen.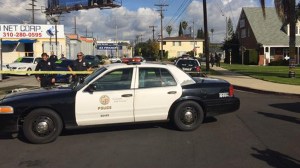 Around noon, officers with guns drawn surrounded a nearby home in 8900 block of Kramerwood Place (map).
Investigators followed a trail of blood to the location, according to police.
Three people exited the home with their hands up, followed by two women who were brought out by police in handcuffs.
Nearby Alexander Hamilton High School was temporarily on lockdown.
Authorities have not said whether the events taking place at the home were related to the earlier shooting.
Investigators were looking into the possibility the shooting was gang related.