This is an archived article and the information in the article may be outdated. Please look at the time stamp on the story to see when it was last updated.
Los Angeles police were asking for help Monday finding an assailant who punched an older man on a scooter in a busy area of Hollywood, resulting in fatal injuries.
The confrontation occurred at 12:40 a.m. Sept. 21 while 54-year-old victim Louie Rodriguez was riding his motorized scooter home from the Sunset Music Festival. Rodriguez was near Hollywood Boulevard and Highland Avenue (map) when an unknown man approached him, punching him.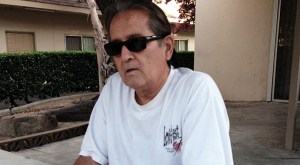 Rodriguez fell backward and hit his head. Responding paramedics transported him to a local hospital.
He was able to briefly speak to police before slipping into a coma, family members said.
On Monday, he died as a result of his injuries, according to a news release from the Los Angeles Police Department. A county coroner's investigator said the death had just been reported to the department.
The man who assaulted Rodriguez — for reasons unknown to police — fled on foot. He was described as Hispanic male about 23 years old, 6 feet tall and with ear expanders in both earlobes.
Family members called the attacker a "coward" who killed a man who "loved life."
"We don't have a brother now because of this," said sister, Tina Rodriquez. "He's overcome a lot … and for this to happen to him is horrible."
Anyone with information was urged to call West Bureau Homicide Detectives Fernando Rivas or Jose Robledo at 213-382-9470. Further contact information is available here.
KTLA's Nidia Becerra Tijerino contributed to this article.