This is an archived article and the information in the article may be outdated. Please look at the time stamp on the story to see when it was last updated.
Police arrested a man on Wednesday accused of accosting at least three Orthodox Jewish women and pulling off their wigs in the Valley Glen over the past few months.
The suspect was arrested at a home in Encino based on a tip investigators received after releasing video and images of the perpetrator earlier in the day Wednesday, Los Angeles police officials said.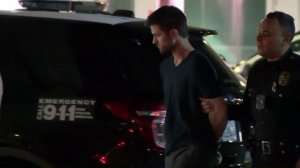 Authorities did not immediately release the man's name. He was seen being taken into the department's North Hollywood station in handcuffs Wednesday night.
The attacks began Sept. 19 — which was the Jewish holiday of Yom Kippur — and are being investigated as hate crimes, LAPD said in a news release. Police said he waited in areas close to synagogues, possibly waiting for a victim.
In the first incident, an 80-year-old woman was walking on Bellaire Avenue from Burbank Boulevard when she noticed a man following her. When she reached Chandler Boulevard, about five blocks south, the man approached her and grabbed the wig off her head, officials said.
The suspect smiled and handed it back to her, remaining silent throughout the exchange before calmly walking away, according to LAPD.
Later that day, the same man approached a 36-year-old woman, again near the corner of Bellaire Avenue and Chandler Boulevard. This time, he came up from behind but was unsuccessful in his attempts to remove the victim's wig, detectives said.
Then on Tuesday afternoon, the suspect targeted a 58-year-old woman who was loading music equipment into car in the area of Laurel Canyon and Burbank boulevards.
After ripping off her wig, investigators say he sarcastically told her, "Oh, I'm sorry." He then allegedly threw her hairpiece on the ground before walking away.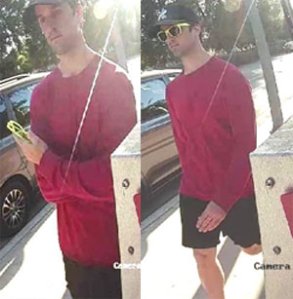 Detective Martin Contrera described it as "a form of humiliation."
Orthodox Jewish women often wear wigs, scarfs or hats because covering their hair is part of their religion, seen as a symbol of modesty.
"If you dressed modestly — in the sense of wearing a shirt or skirt, or pants — to cover up an area that you felt was meant to be covered, and someone came up to you and ripped that off of you, it is no different," said Michelle Hirsch, a local Orthodox Jewish woman.
All three women live near where they were battered, police said.
Detectives believe they were targeted because of their religious beliefs.
Rabbi Israel Hirsch, a member of the LAPD Chaplain Corps, said "that would be a hate crime and it's probably anti-Semitic."
Anyone with information can contact Detective Dan Fournier at 818-754-8451, or reach out to the department's 24-hour tip line at 877-527-3247 during non-business hours. Anonymous tips may be submitted via L.A. Crime Stoppers at 800-222-8477 or www.LACrimeStoppers.org.