This is an archived article and the information in the article may be outdated. Please look at the time stamp on the story to see when it was last updated.
An LAPD sergeant who was helping the Sheriff's Department with a search for a robbery suspect was recovering after being struck and dragged by a vehicle in Sylmar early Tuesday.
The collision occurred near Los Angeles Mission College about 1 a.m., according to a lieutenant with the Los Angeles County Sheriff's Department's Parks Bureau, which was looking for an individual wanted by a warrant who ran from deputies.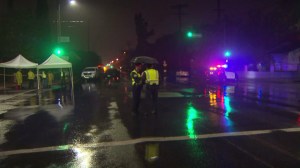 The police sergeant was one of the first to respond to a Sheriff's Department request for help setting up a perimeter around the search area. He was standing next to his vehicle when he was struck, Los Angeles Police Department Cmdr. Mike Williams said.
The unidentified sergeant was struck, knocked unconscious and dragged by a vehicle some 35 feet. The adult male driver remained on scene, was cooperative and had no signs of impairment from drugs or alcohol, Williams said.
"We're not calling this a crime at this point. We're looking at as a tragic incident," Williams said.
Just before dawn, Williams said the injured sergeant was conscious and talking.
LAPD Chief Charlie Beck said he visited the sergeant in the hospital, saying on Twitter that the man was in "great spirits."
Williams said he did not know if the crash was related to the downpour that the L.A. area saw overnight.
I just left the hospital after visiting with our injured Sgt. He's in great spirits, surrounded by friends & family on the road to recovery

— Chief Charlie Beck (@LAPDChiefBeck) September 15, 2015