This is an archived article and the information in the article may be outdated. Please look at the time stamp on the story to see when it was last updated.
Los Angeles police on Thursday evening shot and killed a 30-year-old man who attacked an officer with a 4-foot-long metal level after a report of a "neighbor dispute" in Van Nuys, an LAPD spokesman said.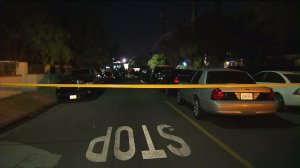 Two officers about 11:30 p.m. responded to a residence near the intersection of Valerio Street and Van Nuys Boulevard, following a call from a homeowner, said Sgt. Barry Montgomery of the Los Angeles Police Department.
They encountered a person who refused to leave the house, and at one point he armed himself with a contractor's level and began striking one of the officers in the head and shoulder areas," the sergeant said.
Police then opened fire, Montgomery said. It was unclear if the man was pronounced dead at the scene or at a hospital. He was not immediately identified.
The officer who was struck on the head was transported to a hospital with moderate injuries, the LAPD said.
Asked if he could confirm reports that the deceased man was a squatter at the residence, Montgomery said: "At this time, I'm uncertain. However, that may be the case."
A multi-agency investigation was underway, conducted by the Police Department, district attorney's office and independent inspector general.
A section of Valerio Street, just west of Van Nuys Boulevard, was closed as investigators remained at the scene.