This is an archived article and the information in the article may be outdated. Please look at the time stamp on the story to see when it was last updated.
Los Angeles police are searching for a man who may have been wounded by officers after allegedly attacking a woman inside a car early Sunday morning.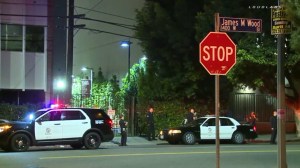 Police fired at the man when they came to investigate a report of a woman screaming in the 1300 block of Ingraham Street about 3:35 a.m., said Officer Norma Eisenman. They found a man and woman in the back of a parked, dark-colored SUV.
Officers thought the man was attacking the woman and broke the car window after finding the door was locked. Police then fired at the man. But it is unclear if the suspect was wounded, Eisenman said.
The man then drove away with the woman still inside the car, although she managed to escape about a block away, she said.
Click here to read the full story on LATimes.com.