This is an archived article and the information in the article may be outdated. Please look at the time stamp on the story to see when it was last updated.
Los Angeles police increased patrols around synagogues and other places of worship Saturday in the wake of a deadly shooting at a Pittsburgh synagogue.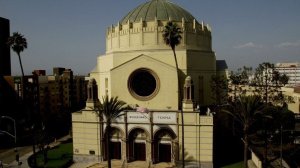 "LAPD is stepping up patrols around places of worship today and we are reaching out to Jewish community leaders," Mayor Eric Garcetti tweeted. "We mourn with #TreeOfLife community today."
Authorities in Pittsburgh said there were "multiple casualties" in the shooting at the Tree of Life Synagogue in the Squirrel Hill neighborhood, the center of the city's Jewish community. Three police officers were also shot in the attack.
The suspected gunman was in custody but few details about him or his motives were immediately available, authorities said.
Read the full story on LATimes.com.
No nexus to LA if the shooting in Pittsburgh. However, LAPD is stepping up patrols around places of worship today and we are reaching out to Jewish community leaders. We mourn with #TreeOfLife community today. EG

— Eric Garcetti (@ericgarcetti) October 27, 2018
We are monitoring the situation in Pittsburgh, Pennsylvania very closely and communicating with our local, state and federal law enforcement partners. Right now there is no apparent connection to Los Angeles.

— LAPD HQ (@LAPDHQ) October 27, 2018
However, out of an abundance of caution you will see extra patrols around houses of worship today. Remember if you see something…say something.

— LAPD HQ (@LAPDHQ) October 27, 2018
City Attorney Mike Feuer on #pittsburgh. #gunviolence #treeoflife (full statement at link in bio) https://t.co/YH8DzBAIk4 pic.twitter.com/KABB4fOJuP

— LA City Attorney (@CityAttorneyLA) October 27, 2018
√