This is an archived article and the information in the article may be outdated. Please look at the time stamp on the story to see when it was last updated.
Los Angeles, they say, loves a winner.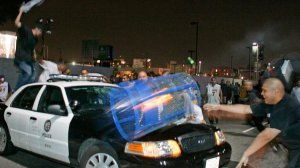 Maybe a bit too much. Big sports victories have sometimes been followed by celebrations that turned into violence. When the Los Angeles Lakers won the NBA World Championship in 2010, crowds spilled onto the streets of downtown L.A., looting businesses, attacking bystanders and setting fires. Dozens were arrested, and a moment of civic pride was tarnished.
Lakers victories in 2009 and 2000 also sparked unrest.
The Los Angeles Police Department doesn't want to jinx the Dodgers' chances in Game 7 Wednesday night at Dodger Stadium. But Los Angeles Police Chief Charlie Beck said his department is prepared for any eventuality.
Read the full story on LATimes.com.