This is an archived article and the information in the article may be outdated. Please look at the time stamp on the story to see when it was last updated.
A woman who drove while intoxicated and crashed into another vehicle in North Hills, killing a father on Father's Day, boarded a Greyhound bus to Mexico with her four children within two hours of the incident, authorities said Tuesday.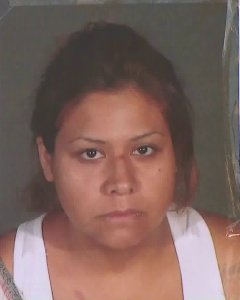 Maritza Joana Lara, a 27-year-old Van Nuys resident, was detained by Mexican Federal Police on the streets of Chiapas on Aug. 15 before being deported to the U.S. two days later, officials said.
The announcement of her arrest in the Mexican state near the Guatemala border came more than two months after the early Sunday morning crash that left 48-year-old Francisco Hernandez Rivas of North Hills dead and Lara's four passengers critically injured.
The Police Department previously released surveillance video that shows a white Lexus sedan running a red light and violently slamming into the victim's blue SUV at the intersection of Haskell Avenue and Parthenia Street.
A person who exited the Lexus, identified by LAPD as Lara, subsequently appears to check on one of her passengers before walking away from the scene.
At a news conference on Tuesday, Detective Nicolas Sinclair said Lara flagged down a good Samaritan, who drove her home. Lara then allegedly went to a Greyhound bus station in downtown L.A. with her four children and fled to Mexico.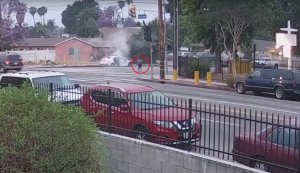 Two of the children are back in the U.S., and the two others remained with their grandmother in Mexico, according to LAPD.
Officials planned to use evidence of empty beer cans found inside the Lexus to prove that Lara had been drinking, Sinclair said. Lara has a previous conviction for DUI, according to LAPD.
Police did not provide new details about Lara's four passengers on Tuesday, but police earlier identified one of them as her sister and another as a seven-month pregnant woman.
They were last reported to be in stable condition.
Rivas' wife, Haydee Santamaria Rodriguez, also spoke at Tuesday's news conference.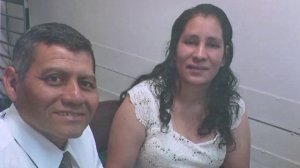 She said she did not feel resentment against Lara but that she hopes to get justice.
Her husband was on his way to church when the crash happened, Rodriguez said. She described him as a great father.
Rodriguez urged people to think before drinking and driving.
Lara was scheduled to appear in court on Sept. 18.
Correction: An earlier version of this story provided an incorrect spelling of the victim's name. This post has been updated.
Remember this horrific fatal hit & run crash? The suspect, Maritza Lara, fled the country but is now in police custody, after being located in Mexico. More details will be provided at a press conference scheduled for Tuesday. https://t.co/k2VqenYFiA

— LAPD HQ (@LAPDHQ) August 25, 2019