This is an archived article and the information in the article may be outdated. Please look at the time stamp on the story to see when it was last updated.
Nearly 25 years after the deadliest arson in California history, Los Angeles police and prosecutors have identified four suspects in a Westlake apartment building fire that they said was motivated by retribution against an effort to stop rampant drug dealing in the building.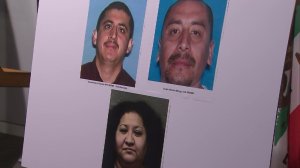 The fire took place in the afternoon of May 3, 1993, at a complex in the 300 block of South Burlington Avenue that was largely occupied by immigrants from Central America.
Seven children and three women — all mothers, including two who were pregnant — died of smoke inhalation on the building's third floor.
The fire was so fast and severe that women were seen throwing babies out of the building's windows in hope their children would survive, the Los Angeles Times reported. Video from a KTLA report at the time showed a chaotic scene, with firefighters running while holding patients, and families weeping.
The blaze was set after a new manager at the apartment building tried to put a halt to drug dealing, authorities said at a news conference Monday. The suspects were all affiliated with the 18th Street gang and were involved in drug sales at the complex, they said.
"This case is a reminder of what it was like to live in Los Angeles County in the early 1990s, when drug-fueled violence was at its height," county District Attorney Jackie Lacey said.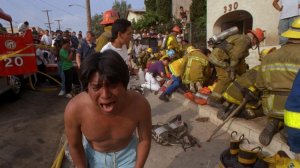 The fire displaced more than 100 residents, and more than 40 of whom were injured, the Times reported. The children who died were between 15 months and 11 years old, the newspaper reported.
"This is our worst nightmare," a firefighter told KTLA at the scene in 1993. "Words can't describe the feeling that all of us have here."
Los Angeles Police Department Chief Charlie Beck said the case "haunted" detectives and prosecutors.
An investigation was reopened in 2013, with the original prosecutor, Assistant District Attorney Joseph Esposito, working with the LAPD's Robbery-Homicide Division, which deals with high-profile crimes.
"It is a mass murder that required that we never give up," Lacey said, describing the fire as the deadliest arson in state history.
Investigators had for several years believed the suspects were involved in the fire, but new evidence and witness statements allowed them to build a solid case.
Part of what changed is that, with the passage of time, witnesses became less intimated by the suspects' gang connections, authorities said.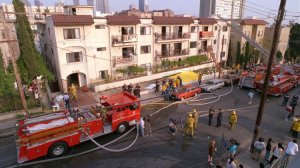 Prosecutors expect to file 12 counts of capital murder against Ramiro Valerio, 43, of Palmdale, and Joseph Monge, 41, and Johanna Lopez, 51.
A fourth suspect was purposefully not identified at Monday's news conference. He is out of the area and authorities hope to get the aid of federal government to bring him in.
Lopez was in 2011 charged with murder in the case. That case will be refiled, authorities said. She is already in custody and will be arrested in the case Tuesday, Beck said.
Valerio and Monge were arrested Feb. 3. They are being held on $25 million and $2 million bail, respectively.
Authorities would not describe the new evidence they believe will lead to convictions.