This is an archived article and the information in the article may be outdated. Please look at the time stamp on the story to see when it was last updated.
The Los Angeles police union has joined the NYPD union in a boycott of the films of Quentin Tarantino in response to the director referring to "murder" in connection with police brutality at a New York rally over the weekend.
Tarantino flew in from California to join marchers in Manhattan in protest of police brutality on Saturday, the Associated Press reported.
"If you believe there's murder going on then you need to rise up and stand up against it. I'm here to say I'm on the side of the murdered," Tarantino said, according to the wire service.
The protest was one of several organized by RiseUpOctober, founded in part by activist and academic Cornel West.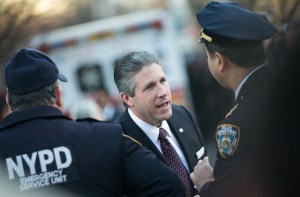 The day after the protest, the president of the New York Police Department officers' union called Tarantino a "cop-hater" and a "purveyor of degeneracy."
Patrick Lynch of the Patrolmen's Benevolent Association called for a boycott of the director's films.
"The police officers that Quentin Tarantino calls 'murderers' aren't living in one of his depraved big screen fantasies — they're risking and sometimes sacrificing their lives to protect communities from real crime and mayhem," Lynch said in a statement Sunday. "New Yorkers need to send a message to this purveyor of degeneracy that he has no business coming to our city to peddle his slanderous 'Cop Fiction.'"
Then, on Tuesday, the Los Angeles Police Protective Union's president offered support for the New York boycott, noting that Tarantino's remarks came four days after NYPD Officer Randolph Holder was fatally shot in a gun battle with a man who was being pursued.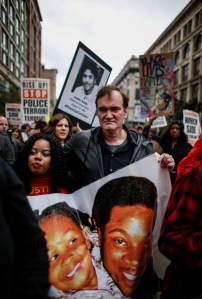 "There is no place for inflammatory rhetoric that makes police officers even bigger targets than we already are," LAPPL President Craig Lally said in a statement.
On Wednesday morning, the L.A. union's board issued an expanded statement in support of the Tarantino boycott, saying that "anti-police rhetoric" in the past year has "bordered on hysteria."
"Film director Quentin Tarantino took it to a new and completely unacceptable level this past weekend," the statement read.
The statement reiterated support for the NYPD union head and for New York Police Commissioner Bill Bratton.
Bratton, former chief of the LAPD, on Monday said in a radio interview that there were "no words to describe the contempt I have" for Tarantino.