This is an archived article and the information in the article may be outdated. Please look at the time stamp on the story to see when it was last updated.
An off-duty Los Angeles police officer violated his department's rules when he fired his gun during a clash with a group of teenagers last year in Anaheim, the Police Commission determined Tuesday.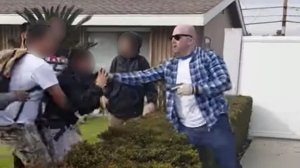 Siding with Chief Charlie Beck, the commission found that Officer Kevin Ferguson's tactics were out of policy, along with his decision to draw his gun and fire it.
The civilian panel's unanimous vote comes nearly a year after Ferguson, 34, fired his gun after confronting a group of teenagers in front of his home in Anaheim, a caught-on-camera dispute that quickly went viral and triggered days of protests.
The criminal investigation into Ferguson's actions ended two weeks ago, when Orange County prosecutors announced they would not charge him in the Feb. 21, 2017, encounter. Prosecutors had harsh words for his actions — calling them "unwise, immature and flat-out horrible" in a memo — but said they could not prove he broke the law.
Read the full story on LATimes.com.