This is an archived article and the information in the article may be outdated. Please look at the time stamp on the story to see when it was last updated.
A large bear was captured Friday morning, after it was spotted wandering around a neighborhood in Baldwin Park, authorities said.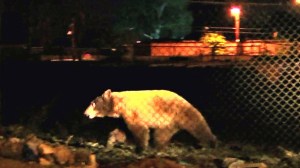 The animal was first seen walking near the corner of Romona Boulevard and Badillo Street (map), officials said.
The sighting was unusual in such an urban area, Andrew Hughan of California Department of Fish and Wildlife told KTLA 5.
The area where the bear was first seen is several miles from the San Gabriel Mountain foothills, where bear sightings in residential neighborhoods are not unusual.
Several residents called 911 and reported the bear was climbing walls, fences and a tree.
Department of Fish and Wildlife crews arrived on the scene around 6:30 a.m. and tranquilized the bear. They loaded it into a truck without incident and hauled it back to the wild.
The bear appeared to weigh about 275 pounds, Hughan said.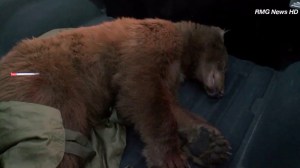 The bear was probably drawn to the area by the scent of food, and was too far away from the woods to find its way back, according to Hughan.
It was "6 miles from open space," Hughan said.