This is an archived article and the information in the article may be outdated. Please look at the time stamp on the story to see when it was last updated.
A fire that burned at a storage facility in Newport Beach -- sending smoke towering and producing massive flames -- was being investigated as a possible arson.
The four-alarm fire broke out about 2:33 a.m. in the 800 block of Production Place, a spokesperson for the Newport Beach Fire Department said.
Several explosions could be heard on video taken from the scene as firefighters responded.
Those were likely due to ammunition, aerosol cans, gasoline and radiator fluid, Fire Department Assistant Chief Chip Duncan said.
Emergency crews found one burn victim and treated a second person for smoke inhalation, according to the spokesperson. That person's condition was unknown.
It took more than 60 firefighters about two hours to put out the flames, which were contained to the one storage area.
Arson investigations from the fire and police departments remained on scene as of midday Friday. A bulldozer was seen sifting through debris.
"You can tell from the size and scope of this -- it's going to take us a while to actually do our dig-out and determine exactly what happened," Duncan said.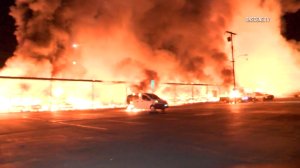 The fire damaged nearby power lines, temporarily knocking out power to residents on the Balboa Peninsula.
Crews, including a hazardous materials team, were still at the scene as of 7 a.m.
"We have a hazmat team out here right now testing all of the runoff and currently there's no hazardous materials involved," Duncan said.
Newport Beach Fire Battalion Chief Jeff Boyles deemed the fire suspicious, the Los Angeles Times reported.
"By nature of the explosion and fire and heat, it makes it suspicious by nature," Boyles told the newspaper.
On scene Friday afternoon, asked about whether the fire was suspicious, Duncan said arson investigators needed to go through proper procedures to determine the cause of the blaze.
Aerial video from Sky5 showed firefighters working to put out a second, smaller fire at a school about a mile away from the initial blaze.
Boyles also characterized that fire as suspicious, although both were started in noticeably different ways, he told the Times.
KTLA's Stephen Acosta contributed to this report.