This is an archived article and the information in the article may be outdated. Please look at the time stamp on the story to see when it was last updated.
A series of major fires raged for hours in downtown Los Angeles and the nearby Westlake area early Monday, destroying a huge apartment complex that was under construction, bringing more than 250 firefighters to the scene, and shutting down the 101 and 110 freeways.
Glass cascaded down around firefighters as they battled the blaze and withstood intense heat radiating off surrounding buildings, Los Angeles Fire Department officials said.
The dramatic fire was visible for miles and sent a scorched smell wafting through central L.A.
No one was believed to be inside the three downtown buildings that were damaged in the fires, but the workers in the nearby LADWP headquarters were moved when more than 160 windows cracked from the blaze.
Officials were unsure if anyone was inside the Westlake building that was under renovation when fire broke out there. One person in the area was treated for smoke inhalation, but was not transported to a hospital.
In the first blaze, firefighters responded to 906 N. Fremont Ave. (map) around 1:20 a.m., finding a 700-foot long building burning in a "well-developed fire," fire Deputy Chief Joseph Castro said at an early afternoon news conference. The fire burned near the four-level 101 and 110 freeway interchange.
Some 250 firefighters were on scene within minutes, Castro said. He called it a "remarkable firefight," saying it was "unheard of" nationally to be able to amass that level of response so quickly.
City and county arson investigators were working alongside federal Bureau of Alcohol, Tobacco, Firearms and Explosive agents to determine the cause of the blaze, Castro said. Any theories on the cause would be "purely speculation" until a lengthy investigation is complete, he said.
"Certainly, one of the things we lean forward to is: Was it intentionally set?" Castro said. "It's impossible to tell until we have a period of investigation."
About two-thirds of the seven-story apartment complex burned, fire officials said. The building, which was under construction and mostly made of wood framing, was directly across from Fire Station No. 3.
"When they open the doors, they saw nothing but fire blowing down the streets, so they started putting their hose lines literally from the front entrance of the fire station, right across the street to the fire," fire Capt. Jaime Moore said.
It was unclear if the building was a total loss, but once the majority of the blaze was extinguished, it appeared to be almost completely leveled, with concrete stairwells being the only thing apparently standing, video showed.
The building was set to be a new, 526-unit addition to the Di Vinci Apartments complex, adding 1.3 million square feet of floor space. The project's website described it as having "world-class amenities such as a state of the art fitness facility, a full size indoor basketball court, a residential lounge, a library, a theater and a business center."
The fire caused significant exposure to two adjacent buildings.
A 16-story high-rise across the street, at 221 N. Figueroa St. (map), had flames on three floors and sprinklers had been activated on six floors when firefighters arrived. Heat appeared to have cracked hundreds of the building's windows, pictures showed.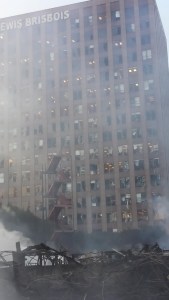 "Our firefighters were able to get in there, knock down this fire, contain it," Moore said. "We do have 14 of those 16 floors with some significant form of damage, either through smoke, radiant heat or water damage."
The 15-story Los Angeles County Health Services building, located at 313 N. Figueroa St. (map), also had fire exposure to three floors, but there were no active flames.
"Firefighters got in there, luckily, in enough time to cool those areas down. They had some papers, some files, on the desks that started  burning, but they were able to knock it down and keep that fire from taking off," Moore said.
In addition to the three buildings damaged by the fire, the Los Angeles Department of Water and Power stated in a news release that at least 160 windows at the iconic John Ferraro Building, located at 111 N. Hope St. (map), were cracked as a result of intense heat.
The damage to the 10-foot-by-4-foot windows forced employees who sit near them to be relocated while the openings were boarded up and secured, DWP said. Wait times were expected to be longer for customers trying to reach the public utility.
Firefighters faced an especially difficult task Monday because glass was "cascading down around them" from multiple high-rise buildings, Moore said.
"If you can imagine they have a large construction site (and) … active fire, which is like a blow torch, but behind them they have the radiant heat that's affecting the buildings behind them and surrounding them," he said. "They had shards of glass that were coming down, falling from the sky."
Due to the size of the fire and the logistics of fighting it, crews closed portions of the 110 and 101 freeways as well as several surface streets.
The southbound 110 and 101 freeways were reopened by 4:40 a.m., the California Highway Patrol tweeted.
On the northbound 110, which was closed most of the day between the 10 and 101 freeways, on-ramps and all lanes except one were reopened as of 9 p.m., the CHP said. According to fire officials at the scene, however, all northbound lanes on that section of the 110 were open.
Video showed several drivers were forced to make U-turns on the 110 Freeway as flames descended upon it. The fire damaged the freeway, burning paint off several metal ramp signs.
Removal of at least one of the signs may cause an overnight freeway closure in the coming days, Caltrans spokesman Patrick Chandler said.
Caltrans was also waiting for a contractor to begin removing rubble from the roadways, he said.
Several off-ramps on the southbound 101 Freeway were closed, including Temple, Broadway and Los Angeles streets, CHP spokesman Francisco Villalobos said. It was unclear when they would reopen.
The northbound 110 connector to the southbound 101 Freeway also remained closed, and Chandler was "cautiously optimistic" that it would be reopened by afternoon rush hour traffic.
A second fire broke out at a two-story building under renovation at 2871 W. Seventh St. (map) in Central L.A.'s Westlake area around 4:09 a.m., fire Chief Ralph M. Terrazas said.
It took nearly two hours for about 100 firefighters to knockdown the blaze. It was unclear if they were in addition to the 250 firefighters said to be fighting the downtown L.A. blaze.
The building housed four businesses — including Happy Feet Clinic, Beauty Secret Hair Salon, Doggie Style and EclosLiving — and tenants lived on the second story, the Los Angeles Times reported. It was unclear if the tenants were allowed to live in the building during renovation and if any were inside when the fire broke out.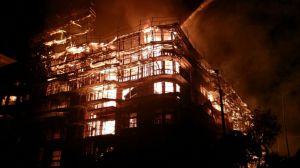 Officials were investigating if the two fires were related. Terrazas said so far there was no reason to believe they were.
Arson investigators had been unable to enter some of the buildings as of 12:30 p.m. due to the amount of damage, Castro said.
Fires "of this magnitude" were always treated as a criminal fire, Moore told the Times.
"It's very rare for the entire building to be engulfed at once," Moore added. "There may have been some foul play."
A third fire broke out at 424 S. Broadway (map) around 5:05 a.m., LAFD tweeted. The incident occurred about a mile from the first blaze.
The fire was "kept in check" by the nine-story building's sprinkler system and the bulk of the damage was caused by water, LAFD spokeswoman Katherine Main told the L.A. Times. The fire was quickly knocked down.
The 221 N. Figueroa St. building was closed, according to an LAFD tweet. Employees were encouraged to call an information line that had been established by the department at 800-882-1482.
The Department of Building and Safety, located at 201 N. Figueroa St. (map), was also closed, City Councilman Jose Huizar said. Anyone who needed contact the department was asked to call 311 for information on other locations.
Parking in the downtown L.A. area was also expected to be impacted.
The damage was expected to amount to millions of dollars, fire officials said. An official estimate had not been released.
Anyone with information about how the fires started was asked to call 213-893-9850, Huizar said.
KTLA's Justin Burton and John A. Moreno contributed to this report.
More videos: