This is an archived article and the information in the article may be outdated. Please look at the time stamp on the story to see when it was last updated.
A California Highway Patrol officer was dead and two other CHP officers were wounded before fatally shooting a suspect in a gun battle near the 215 Freeway in Riverside Monday, officials said. The suspect was driving a white GMC pickup when a lone CHP officer pulled him over on an overpass at Eucalyptus Avenue around 5:40 p.m., said CHP Inland Division Assistant Chief Scott Parker.
Police are investigating why the man was stopped in the first place, but the officer determined he needed to impound the truck. The officer had called for a tow truck and was filling out paperwork when the man went back into his pickup and pulled out a rifle, Parker said. The driver opened fire on the officer and struck him, but the officer was still able to radio for backup. Sheriff's deputies and local police also responded, but the first three officers on scene were from CHP, according to Parker. The gunman immediately engaged the first two officers to respond in gunfire; both officers returned bullets and both were struck, the assistant chief said. The gun battle continued between a fourth CHP officer and about four other law enforcement officials until the suspect was fatally wounded. The man died at the scene, according to Parker. Video shot by a freelance photographer at the scene shows some officers with guns raised in battle while others worked to drag wounded officers away from the line of fire. Riverside Police Chief Sergio Diaz described it as "long and horrific gun battle." A police helicopter airlifted the first officer on scene to the Riverside University Health System Medical Center, where he was pronounced dead. Gov. Gavin Newsom and CHP Comissioner Warren Stanley later identified him as Officer Andre Moye.
Our hearts ache over the tragic loss of @CHP_HQ's own Officer Andre Moye — who will be remembered for his commitment to service and the community of Riverside County. Jen and I extend our deepest condolences to his family, friends, and fellow officers who are grieving tonight.

— Gavin Newsom (@GavinNewsom) August 13, 2019
I am devastated by the tragedy that unfolded earlier in Riverside. Tonight, I mourn the loss of one of our own, CHP Officer Andre Moye, who was killed during a shootout following a traffic stop. Prayers go out to all, including the responding officers injured in the shooting.

— Warren Stanley (@CHPCommissioner) August 13, 2019
One of the officers wounded was in critical condition, while the other suffered minor injuries, officials said. Earlier, Riverside Police Officer Ryan Railsback said both wounded officers were expected to survive. Two civilians were injured, but their wounds were largely superficial, according to Parker. One was hospitalized but was expected to be OK. The gun battle resulted in a "very extensive crime scene" that detectives are just beginning to comb through, and Riverside police will lead the investigation, Diaz said. Aerial video showed blood on the hood of the GMC pickup, and a large long gun could be seen on the sidewalk nearby. The chief said a rifle of unknown caliber was recovered at the scene.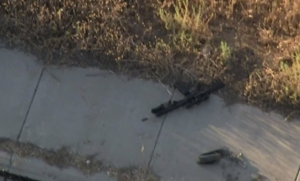 Several bullet holes could be seen in the windshield of a CHP SUV, and the rear window of a cruiser was shot out. Officials have yet to delve into the suspect's background, and they're not sure where he was headed or coming from or what his motivations may have been. They'll spend the next several days parsing a mountain of evidence, including body-camera video, radio transmissions and witness accounts, Diaz said. Witness Charles Childress said the GMC pickup appeared to have been pulled over for some time before gunfire erupted. Childress said he was driving to Sycamore Canyon Park with his dog when he saw the truck pulled over with the driver unloading property. When Childress returned from the park about 10 or 20 minutes later, gunshots were ringing out. Having spent 21 years in the Marine Corps, he said he "recognized them as shots automatically." Jennifer Moctezuma said she was driving on Box Springs Boulevard with her 6-year-old twins in the back seat when a bullet went through the center of her windshield, passing her head and in between the two children. "At first my mind went blank," Moctezuma said. "Then I told my kids to get down and duck, but they couldn't because they had their seatbelts on in the car seats." Childress said he heard the children screaming and he sprang into action to lead the family to a safer spot. "That's what we train for in the Marine Corps," Childress said. "I'm just glad the kids are OK." Moctezuma says Childress came up just as she was able to get the kids unrestrained. "If it wasn't for Chuck (Childress), I don't know what we would have done," Moctezuma said. "I've heard that cars got shot more after that." Moctezuma was unsure whether the bullet that pierced her vehicle was fired by CHP or the suspect. The freeway's auxiliary lanes and off-ramps would be closed at Eucalyptus Avenue for an unknown duration, likely through the morning, officials said. Riverside County Sheriff Chad Bianco asked the public to avoid the hospital and area around the 215 and 60 freeways' interchange while investigation continued.
An Officer involved shooting occurred earlier today. Three of our officers were involved and a suspect. One of our officers succumbed to the injuries sustained. Updates will follow!! #californiahighwaypatrol #whatsgoingoninriversidecounty #code3news #bluelifematters💙 #abc7 #ktla pic.twitter.com/yzkHSguQ1P

— CHPRiverside (@ChpRiverside) August 13, 2019
Please say some prayers for the CHP officers involved in a shooting near I-215 at Box Springs/Eastridge in Riverside. MM

— Melissa Melendez (@asmMelendez) August 13, 2019
RIVCO: SB I-215 Eucalyptus/Eastridge Avenue in Riverside. AUX lane and offramp closed due to police activity. Unknown duration. #Caltrans8

— Caltrans District 8 (@Caltrans8) August 13, 2019
91/PV Line: Today's passengers at Riverside Downtown, off train 706 can redeem an Uber voucher at https://t.co/aMHhwwwVXH for ride of up to $50. Please visit https://t.co/DEpzZd0Gbq for details and restrictions.

— Metrolink (@Metrolink) August 13, 2019
91/PV Line: Today's passengers between Riverside Hunter Park/UCR and Perris South, off train 704 can redeem an Uber voucher at https://t.co/6dIU7AopAQ , for ride of up to $50. Please visit https://t.co/tv8K4rCLXU for details and restrictions.

— Metrolink (@Metrolink) August 13, 2019