This is an archived article and the information in the article may be outdated. Please look at the time stamp on the story to see when it was last updated.
A large eucalyptus tree fell across a 405 Freeway on-ramp in Sherman Oaks, causing a multivehicle crash that left a driver hospitalized on Thursday afternoon, the California highway Patrol said.
The incident was reported on the southbound 405 at the Burbank Boulevard on-ramp just before 1:30 p.m., according to CHP's incident log.
Although initial reports to the agency indicated the tree struck three vehicles, CHP later indicated the cars were involved in a collision after the tree fell. One vehicle — a Ford-150 — appeared to have been hit by a branch, and the glass of its windshield was shattered, a photo from the scene showed.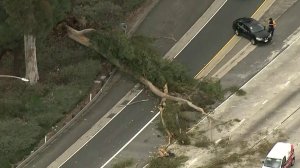 Three people were medically evaluated at the scene and one driver was taken to a hospital, according to CHP.
Multiple lanes were blocked on the freeway in the aftermath of the incident, Sky5 aerial video showed. Traffic was jammed in the area near the 101 interchange, which is already among the busiest in the U.S.
The  Burbank onramp to the southbound 405 was expected to remain closed until at least 3:30 p.m. as crews worked to remove branches and other bits of debris from the road, according to CHP.
As of 2:40 p.m., all lanes of the southbound 405 had been reopened.
The incident took place as rain, snow and hail were reported around the Southland.
A large eucalyptus tree fell onto the SB lanes of the 405 just south of Burbank Blvd this afternoon and a collision occurred involving 3 vehicles. One driver was transported to the hospital with unknown injuries. As of 2:40pm, all SB lanes are open except for the Burbank on-ramp. pic.twitter.com/eUcJYIpeEg

— CHP – West Valley (@CHPWestValley) February 21, 2019
A large eucalyptus tree fell onto the SB lanes of the 405 just south of Burbank Blvd this afternoon and a collision occurred involving 3 vehicles. One driver was transported to the hospital with unknown injuries. As of 2:40pm, all SB lanes are open except for the Burbank on-ramp. pic.twitter.com/eUcJYIpeEg

— CHP – West Valley (@CHPWestValley) February 21, 2019