This is an archived article and the information in the article may be outdated. Please look at the time stamp on the story to see when it was last updated.
Three weeks after an 18-year-old man was fatally shot on a South Los Angeles-area street following an argument, his family and investigators asked for help Thursday finding the two killers.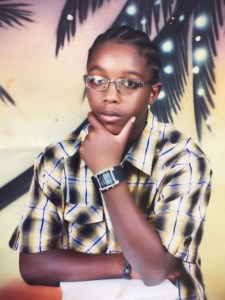 Marshawn Jackson was fatally shot about 3 p.m. Aug. 27 in the 9500 block of Parmelee Avenue, in the unincorporated Florence-Firestone neighborhood.
The teen got into an argument with a man and a woman before he was shot, and the man "became enraged," the Los Angeles County Sheriff's Department said in a news release.
The man pulled a handgun of unknown caliber from his waistband and shot Jackson multiple times in the upper torso, the release stated.
Surveillance video showed the shooter and woman running westbound on 96th Street, leaving Jackson for dead.
Family members said Jackson was a "good kid," a musician with no gang ties who left behind a 2-year-old daughter and girlfriend. He lived in L.A.
"I'm just hoping you guys get the people that did it," said the victim's mother at a news conference in downtown L.A. Thursday. "It would be justice for my whole family, and myself."
Sheriff's investigators asked for help identifying the pair seen in the video, and county Supervisor Mark Ridley-Thomas announced a $10,000 reward in the case.
The pair wanted in the killing were described as an 18- to 20-year-old Hispanic man and an 18-year-old Hispanic woman.
The man was 5 feet 8 inches tall with a thin build, authorities said. The woman was described as having long brown hair.
Anyone with information was asked to call sheriff's Homicide Bureau at 323-890-5500. Anonymous tipster may call 800-222-8477, or text the letters TIPLA plus the tip to 274637, or go to lacrimestoppers.org.