This is an archived article and the information in the article may be outdated. Please look at the time stamp on the story to see when it was last updated.
The Los Angeles County Sheriff's Department is asking for the public's help in identifying any suspects that may be involved in the El Monte shooting death of a Jack in the Box employee.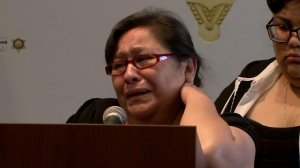 Juan Manuel Vidal, 25, was shot and killed Oct. 21 during a robbery at the fast food restaurant located in the 9200 block of Flair Drive.
The suspect, who police say was wearing a Halloween mask and blue baseball cap, jumped over the counter and demanded money.
Police said it was unclear why the suspect opened fire on the employee. The suspect fled after the shooting and no money was taken.
Vidal was a beloved son who recently graduated as a pharmacy technician and was engaged.
"I want my son home," said Mary Smay, the victim's mother. "I want to hold my son. If anybody knows who did this, who took my son away you need to turn him in."
Anyone with information is asked to call the Los Angeles County Sheriff's Department, Homicide Bureau at 323-890-5500.  Anonymous tipsters can call Crime Stoppers at 800-222-TIPS.