This is an archived article and the information in the article may be outdated. Please look at the time stamp on the story to see when it was last updated.
Los Angeles County Sheriff's detectives requested the public's assistance during a press conference on Friday after a disabled father of five was gunned down in Compton.
Andre McMihelk, Jr., 30, was enjoying a backyard barbecue with friends around 7:38 p.m. May 14 in the 1000 block of Nestor Avenue when he was killed, according to detectives.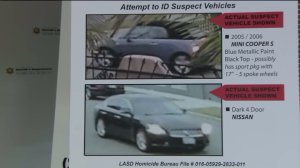 A person got out of a four-door black Nissan, pulled out an assault rifle and shot McMihelk as he was crossing the street, police said. Police suspect the driver of a nearby blue metallic 2005/2006 Mini Cooper S was also involved in the shooting.
"It seems like he was targeted for what reason, we don't know," said Lt. John Corina of the Los Angeles County Sheriff's Department. "Now the person, the assailant, all we got now is a male, black adult got out of that car, shot at Andre, striking him. It seems like he was targeting Andre, so it appears that it was kind of personal."
Family and friends described McMihelk as a very active father who was expecting a baby with his pregnant fiancée this holiday season. He was known as an outgoing and friendly person and had no ties to any criminal street gangs, according to a LASD press release. 
"It just breaks my heart that we have to deal with this and go through this," said Charisse Norwood, the victim's cousin. "I don't think it's fair for anybody to have to deal with this."
McMihelk grew up in the city of Carson and was a Long Beach resident at the time of his death. Anyone with information is asked to call the Los Angeles County Sheriff's Department at 213-229-1700.