This is an archived article and the information in the article may be outdated. Please look at the time stamp on the story to see when it was last updated.
After a late night pursuit from Orange County to Pasadena, authorities on Friday are searching for the two or three people involved who may also be suspects in a cell phone store burglary in Laguna Niguel, officials said.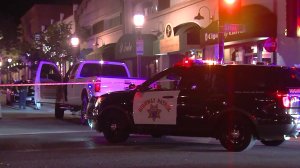 The pursuit happened Thursday night, beginning with Buena Park police pursuing a vehicle in Laguna Niguel in a chase that California Highway Patrol officers took over by about 11:10 p.m., according to Pasadena police.
CHP started pursuing the vehicle when it reached the westbound 10 Freeway and North Soto Street, and from there, the chase continued north toward Pasadena, police said.
There are conflicting reports about whether two or three people were involved, but officials said the chase ended when the driver bailed on foot into a Pasadena parking garage before other passengers left on foot into a nearby mall. Footage of the scene showed what appeared to be a white Ford F-150.
The chase ended in the area near West Colorado Boulevard and North De Lacey Avenue, just around the corner from an Apple store where people were up late waiting outside for the new iPhone X launch.
Some customers saw the last moments of the chase unfold, as choppers flew over the scene and police vehicles swarmed the area.
"All of a sudden, these helicopters are coming right over my head with lights shining in the streets," said David Wang, who was in line for the new phone at the time. "I hear the sirens, I see the police coming up."
One Apple customer said he thought the pursuit suspects would already be in police custody considering the amount of law enforcement there.
"I was surprised, actually, none of the three guys got captured," Philip Zhu said. "I was a little surprised about that because so many police cars were here."
The people involved in the chase may be connected to an armed robbery at a Verizon store in Laguna Niguel on Thursday night around 11 p.m. — a possibility the Orange County Sheriff's Department is still investigating, officials said. The robbers managed to break into the store after confronting a janitorial crew, officials said.
The break-in involved a large white pick-up truck, authorities said.