This is an archived article and the information in the article may be outdated. Please look at the time stamp on the story to see when it was last updated.
Both the husband and wife who opened fire on a crowd of mostly San Bernardino County employees had participated and target practice and were radicalized, but it was not clear how they came to hold their beliefs, the head of the local FBI investigation said Monday.
The news came at a midday press conference that was the first since a Friday event where David Bowdich, assistant director in charge of the FBI's Los Angeles Field Office, said the Dec. 2 shooting rampage in San Bernardino was being investigated as an "act of terrorism."
"Did the female radicalize the male in this case? The answer is we still do not know," Bowdich said Monday. "As the investigation has progressed, we have learned and believe that both subjects were radicalized and have been for quite some time."
Investigators are trying to figure out how and where that happened and whom they were radicalized by, Bowdich said. The FBI is working with its legal attaché offices and foreign counterparts to build a timeline of the development of each shooter.
Tashfeen Malik, 29, and Syed Farook, 28, took the lives of 14 people and injured another 21 by opening fire on Farook's county Department of Public health coworkers at a training and holiday luncheon in a conference room at the Inland Regional Center.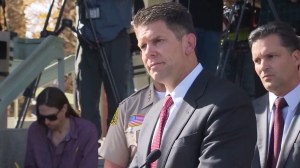 They had both participated in target practice in the broader Los Angeles area, Bowdich said.
"That target practice, in one occasion, was done within days of this event," Bowdich said.
There were 19 pipes that could have been turned into pipe bombs found at their Redlands home, he said.
Malik pledged allegiance to the Islamic State group in a Facebook posting before the shooting, and Farook had had contact with overseas terrorist organizations, authorities have said.
The couple were praised as "supporters" by Islamic State in a radio broadcast over the weekend, but the terrorist group did not claim responsibility for the attack.
The White House said there is nothing to show that the shooters were part of a terrorist network.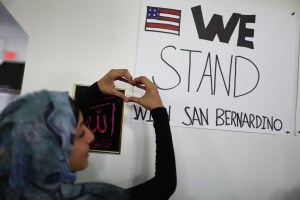 "So far, we have no evidence that the killers were directed by a terrorist organization overseas, or that they were part of a broader conspiracy here at home," and President Barack Obama said in a rare Oval Office address to the nation Sunday evening. "But it is clear that the two of them had gone down the dark path of radicalization, embracing a perverted interpretation of Islam that calls for war against America and the West.
"They had stockpiled assault weapons, ammunition, and pipe bombs. So this was an act of terrorism, designed to kill innocent people."
On Monday, Bowdich reiterated that the couple has not been linked to an international group at this stage in the investigation.
"We do not see any evidence, so far, of an OCONUS plot — outside the continental U.S. — plot. We may find it some day, we may not. We don't know," Bowdich said.
More than 400 interviews had been conducted, and upwards of 320 pieces of evidence taken in a "massive" investigation, he said.
The couple were not under any kind of surveillance or being tracked in any way prior to the shootings, investigators have said. Farook and Malik were killed in a shootout with officers several hours after the initial killings.
Farook was born in Chicago. Malik was born Pakistan and moved to Saudi Arabia, where the couple married in Mecca. She came to the U.S. in 2014 with Farook.
They had a 6-month-old daughter who lived with them in their Redlands townhome, which was stocked with an arsenal that included thousands of rounds of ammunition.
Three of their firearms were legally obtained by Farook, and two others were purchased by a man named Enrique Marquez, an agent from the federal Bureau of Alcohol, Tobacco, Firearms and Explosives said Monday.
Marquez's Riverside home was raided Saturday, and on Monday the home showed that the garage door had been bashed in.
Farook purchased two 9 mm pistols that were found on the shooters, as well as a .22-caliber rifle found at the Redlands home, John D'Angelo of the ATF said. Marquez purchased the two assault rifles used by the shooters.
Federal investigators were trying to determine how the assault rifles got from Marquez to Farook and Malik.
Marquez checked himself into a mental health facility in Long Beach after the shooting, the San Bernardino Sun reported Monday.
Bowdich said investigators were also trying to determine who or if anyone helped in the planning and financing of the attack, and if anyone profited from the violence.