This is an archived article and the information in the article may be outdated. Please look at the time stamp on the story to see when it was last updated.
LOS ANGELES — Apple Inc. won a $30-million contract Tuesday from the Los Angeles Unified School District, paving the way for the company to provide every student with an iPad in the nation's second-largest school system.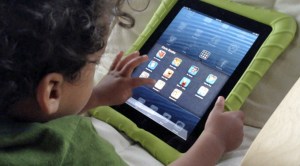 During a wide-ranging, lengthy L.A. Board of Education meeting, members launched the first effort in the state to seek more public information about school overhaul campaigns under the controversial parent trigger law. Board member Steve Zimmer said his proposal was aimed at increasing "accurate and objective" information for parents about the trigger process.
The 2010 law gives parents at persistently low-performing schools the right to force out school staff, close their campus or reopen as an independent, publicly financed charter.
On the tablets, the board voted 6 to 0 to authorize the purchase of the devices after senior staff lauded the iPad option as both the best in quality and the least expensive product that met the district's specifications.
Click here to read the full story on LATimes.com.