This is an archived article and the information in the article may be outdated. Please look at the time stamp on the story to see when it was last updated.
Los Angeles schools chief John Deasy's contract was extended through 2016 on Tuesday, several days after sources told the Los Angeles Times that he planned to leave his post in February.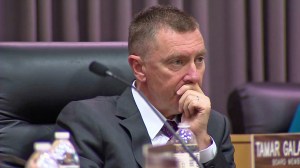 After a closed-session performance review with the Board of Education that lasted more than four hours, Deasy was given a "satisfactory performance evaluation, which extends his contract through June 30, 2016," LAUSD said on Twitter.
The announcement in the board room came with almost no comment from board members or Deasy, who said he would not be giving news media interviews on the subject.
Deasy thanked the board.
Earlier in the day, outside the Los Angeles Unified School District headquarters near downtown L.A., parents and students protested, chanting, "Don't be crazy, keep John Deasy."
United Teachers Los Angeles, the 17,500-member teachers' union, had also planned to rally. The union has been critical of Deasy and stated "it's about time" that he depart.
The board's review, contract extension and the protests came after high-level sources last week told the Los Angeles Times that Deasy planned to depart in February, following fewer than three years leading the nation's second-largest school district.
Deasy would not comment on the report, saying only that he had not submitted a letter of resignation and would speak on the matter after his Tuesday meeting with the seven-member board.
Deasy had offered to resign in a proposed settlement that had been presented last Friday to board President Richard Vladovic, The Times reported Tuesday as the board went into closed session. Under the agreement, Deasy would resign on Feb. 1, 2014, but could be a consultant to the district until June 30, 2015, according to The Times.
That settlement offer was apparently discarded during the closed-session performance review. No vote tally for board members was given once they returned to open session.
A high-profile figure in the world of education, Deasy, 52, has come under fire for his plan to include student test scores in teacher performance evaluations, a troubled initiative to give an Apple iPad to every student and an ongoing scandal over alleged sexual abuse at schools.
For the first time, Deasy's annual review Tuesday came before a board that included newly elected members who are less favorable of him than past board members.
The annual performance review for Deasy, who has a contract that pays him $330,000 annually, had already been scheduled for Tuesday afternoon before the news  broke of his possible departure.
A late addition to the closed session agenda was a discussion with legal counsel over potential litigation related to the "superintendent's separation."