This is an archived article and the information in the article may be outdated. Please look at the time stamp on the story to see when it was last updated.
Los Angeles Unified School District students returned to their classes on Wednesday, one day after an emailed threat of violence that prompted an unprecedented districtwide closure was deemed to be "not credible."
Police had been expected to step up and increase patrols around LAUSD schools as the district's campuses reopened.
At Colfax Avenue Elementary School in Valley Village, multiple patrol cars and law enforcement personnel were spotted on and around campus as school got underway, video from the scene showed.
"Always a good idea," one father said when asked about the heightened security. "I'm comfortable with it … I feel safe as a parent."
The threat against the nation's second-largest school district was sent to a school board member Monday evening. The Los Angeles Police Department was notified that night about the "specific" threat, which involved explosive devices and firearms, LAPD Chief Charlie Beck said.
Out of an abundance of caution, LAUSD Superintendent Ramon Cortines made the decision to close all schools for the day while plant managers and law enforcement personnel conducted thorough searches of all the district's campuses.
Initially, school officials referred to the threat as "credible." But after an exhaustive 12-hour investigation, the LAPD, LAUSD, Los Angeles County Sheriff's Department and FBI "determined that this is not a credible threat," Beck said.
"We believe that our schools are safe," school board President Steve Zimmer said at a news conference late Tuesday afternoon. Zimmer was flanked by the LAPD chief, Mayor Eric Garcetti and Los Angeles County Sheriff Jim McDonnell when he made the announcement.
Garcetti stopped short of calling the threat a "hoax," which was the preliminary assessment from the House Intelligence Committee, according to Rep. Adam Schiff, a Democrat who represents parts of L.A. and is on the committee.
"Some have used words that I think are inappropriate like 'hoax' and other things" to describe the incident, said Garcetti, who supported the decision to shut down the schools. "Whether it's criminal mischief, whether it's somebody testing vulnerabilities of multiple cities, we still do not know enough to say definitively."
Rep. Brad Sherman, a Democrat and senior member of the House Foreign Affairs Committee, reviewed the email and described its contents in a news release.
"The author claims to be an extremist Muslim who has teamed up with local jihadists," said Sherman, who represents the state's 30th District. "We do not know whether these claims are true or a lie. We do not know whether this email is from a devout Muslim who supports jihadists or perhaps a non-Muslim with a different agenda."
Students coming back to school had been told to expect a heightened police presence around district schools, Beck said, according to the Los Angeles Times.
It was unclear how many LAPD officers would be patrolling campuses.
"We will be sending patrol units pretty much around all the schools," Police Department spokesman Mike Lopez told the newspaper. "What's it's going to come down to is our basic police cars … will be assigned to go by every hour or maybe every other hour to give extra patrol, high visibility around the school area."
The threat was traced back to an IP address in Frankfurt, Germany, but it was still not known who sent it. Beck said he believed the email actually originated closer than Europe.
The source is under investigation by the FBI.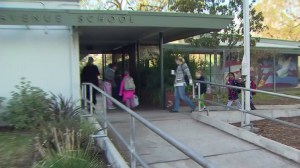 Amid some criticism, the police chief later defended the decision to close down schools, a move that potentially cost the district $29 million.
"When parents make their determination about the decisions that were made today," he said, "I would ask them to look at it this way: If you knew what the superintendent and the school board knew at 5:30 this morning, when the decision had to be made, would you have sent your child to school?"
Some parents and students also expressed support for the decision.
"We're feeling fine, we think that LAUSD did the right thing yesterday and we feel great about coming back to school today," said one mother as she dropped off her daughter at Colfax Elementary School.
One student said she felt "much better" about coming back to campus on Wednesday.
"I just feel more safe, and very happy that our school's open today," she said.
Crisis counselors would be on hand at schools; teachers were also given packets by the district on how to address the incident with their students.
Tom Torlakson, state Superintendent of Public Instruction, noted the technical possibility that the shutdown could result in LAUSD not receiving some $29 million in funding due to loss of average daily attendance.
"I have the power, as superintendent, in emergencies, to recommend that the district be made whole," he said. But, Torlakson, added, "We're nearly 100 percent certain that we can take the steps to restore those funds to the district."
LAUSD serves more than 640,000 students throughout the Los Angeles area and in multiple nearby cities, according to its website. The district is made up of about 900 school and 187 public charter schools.