This is an archived article and the information in the article may be outdated. Please look at the time stamp on the story to see when it was last updated.
All Los Angeles Unified School District campuses will reopen Wednesday, officials announced, following an unprecedented districtwide closure Tuesday after the LAUSD received a threat of violence that law enforcement agencies ultimately determined was "not credible."
"We believe that our schools are safe," Steve Zimmer, president of the LAUSD board, said early Tuesday evening at a news conference attended by Mayor Eric Garcetti, LAPD Chief Charlie Beck and Los Angeles County Sheriff Jim McDonnell.
"Some have used words that I think are inappropriate like 'hoax' and other things" to describe the incident, Garcetti said. "Whether it's criminal mischief, whether it's somebody testing vulnerabilities of multiple cities, we still do not know enough to say definitively."
The threat against the nation's second-largest school district was sent via email to a school board member Monday evening and was traced back to an IP address in Frankfurt, Germany, according to LAUSD spokeswoman Ellen Morgan.
Officials announced the districtwide closure shortly before 7 a.m. Tuesday.
The Los Angeles Police Department was notified about a "specific" threat late Monday night that had been sent to a number of school board members, Beck said during a mid-morning news conference.
The implied threat was "explosive devices," "assault rifles" and "machine pistols," according to Beck.
Garcetti, speaking at the same morning news conference as the police chief, added that the message included a number of forms of violence and weapons, and stated that "things were already in place to bring that violence about."
Early on in the investigation, the city's Emergency Operation Center was activated at its lowest level, the mayor said.
The threat — also made against New York City schools — was deemed a "hoax or something designed to disrupt school districts in large cities" in a preliminary assessment, according to Rep. Adam Schiff, a Democrat who represents parts of L.A. and is on the House Intelligence Committee.
Beck later defended the decision to close schools.
"When parents make their determination about the decisions that were made today," he said, "I would ask them to look at it this way: If you knew what the superintendent and the school board knew at 5:30 this morning, when the decision had to be made, would you have sent your child to school?"
"Every parent I've asked said, no, of course not," he said.
In an interview with KTLA, Karlee Parrish, an LAUSD parent, expressed support for Tuesday's closure.
"If there's anything like that is ever even a potential threat, I would want them to cancel all schools," she said.
Tom Torlakson, state Superintendent of Public Instruction, noted the technical possibility that the LAUSD would not receive about $29 million in funding due to the "loss of ADA," or average daily attendance, caused by the shutdown.
"I have the power, as superintendent, in emergencies, to recommend that the district be made whole," he said. "We're nearly 100 percent certain that we can take the steps to restore those funds to the district."
Although the email originated from an IP address in Germany, the source of the threat was unknown, according to Beck. He said he believed the threat came from much closer than Europe.
School officials initially referred to the threat as "credible." After a 12-hour investigation, however, the LAPD, LAUSD, Los Angeles County Sheriff's Department and FBI "have determined that this is not a credible threat," Beck said.
A similar threat was made against New York City's school system on the same day, according to New York Police Commissioner Bill Bratton. He described the email that the superintendent of his city's school system received as "almost exactly the same" as the one LAUSD officials were sent.
New York police believe the threat in their city to be a "hoax," said Bratton, a former LAPD chief.
In a live phone interview with KTLA, Rep. Brad Sherman said he had reviewed the emails. The one directed at New York schools included a claim that 138 people were involved, while the one sent to L.A. stated 33 people were involved.
"The New York email lacked credibility. There were certain parts of the Los Angeles email that are not credible," Sherman said.
"The purpose of terrorism is not necessarily to blow things up, and to cause casualties, but to create fear," said the congressman, who represents part of the San Fernando Valley. "This email did just that at very little cost to whoever sent it."
Earlier, Superintendent Ramon Cortines described the nature of the threat as "unspecified." It was initially characterized as a "terror threat" by another LAUSD official.
Calling the threat "rare," Cortines said the threat was directed to "students at schools." He added it was made to "many schools," but did not identify any by name.
Officials later clarified the threat had been made to all schools.
The superintendent stated that he made the decision to close all campuses after consulting with Zimmer and Los Angeles School Police Department Chief Steven Zipperman.
Cortines had the full support of Garcetti, who said that while the decision to close the schools was not his to make, "it is mine to support as mayor."
All the schools were being thoroughly searched to ensure the grounds were "safe for children," according to Cortines.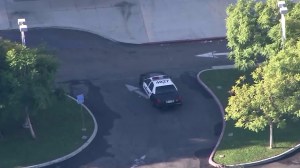 "I've asked the plant managers to walk the school, and if they see anything that is out of order to contact the police," Cortines said.
The LAPD — which has taken the lead in the investigation — and the Sheriff's Department assisted school police in search operations of all campuses.
A number of police patrol cars and SWAT vehicles were seen in the vicinity of local schools in the hours after LAUSD disclosed the threat, video from Sky5 showed.
School bus service was canceled for the day. All LAUSD students with a valid student ID were able to ride Metro services for free Tuesday.
Other districts in Southern California reported receiving no threats to their schools, and were operating their campuses normally. Some charter, private and Catholic schools closed.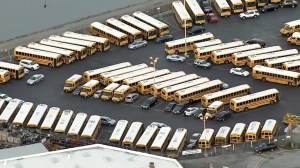 Cortines felt it was important to take the precaution "based on what has happened recently, and what has happened in the past," he said, alluding to the recent mass shooting in San Bernardino, which was being investigated by the FBI as an "act of terrorism."
The Dec. 2 attack at the Inland Regional Center left 14 people dead and 22 others injured.
"Whether this pans out as something that could have happened or not … I do not want people to say – because sometimes things don't result in a shooting, or don't result in a foiled plot – to not speak up and to not speak out," Garcetti initially said, while the threat was being analyzed. "If you see something, say something."
As law enforcement personnel walked through all the campuses looking for anything suspicious, schools were closed Tuesday out of an abundance of caution and to ensure the safety of students, according to the school police chief.
A number of steps were taken before the schools were cleared to reopen, including gathering information obtained by LAPD and the Sheriff's Department from the campus sweeps, Zipperman stated.
The superintendent and school board members were then briefed and made a final determination based on the collected evidence on whether classes would be in session on Wednesday.
"We will not do that until we are completely satisfied that we have taken every measure possible to ensure the safety of our students," Zipperman said at the initial news conference.
In the meantime, parents and guardians were urged in the morning hours to keep their kids home from school on Tuesday.
Anyone who had already dropped their child off was asked to pick them up. Proper ID was required and checked upon picking students up, school officials said.
LAUSD serves more than 640,000 students throughout the Los Angeles area and in multiple nearby cities, according to its website. The district is comprised of 900 school and 187 public charter schools.
After a brief outage, an information hotline was working again for parents with questions: 213-241-2064.
KTLA's Melissa Pamer, Alberto Mendez and Irving Last contributed to this story.
LAUSD has issued a guidance in order to help schools "restore calm." Click here for more information.