This is an archived article and the information in the article may be outdated. Please look at the time stamp on the story to see when it was last updated.
Hundreds of thousands of Los Angeles Unified School District students headed back to class for the first day of school Tuesday as summer vacation officially came to an end.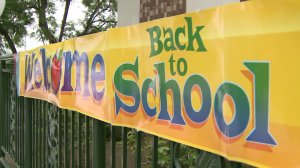 As with the rest of California, LAUSD's year began with a change in vaccination policy, as nearly all students are required to have up-to-date immunizations in order to attend school under SB 277, a state law that removed the personal belief exemption option.
The law, which was signed into law on June 30, 2015, and went into effect this year, now only allows an exemption from the vaccine requirement for medical reasons, according to an LAUSD statement.
Students first admitted to school or child care, or those entering the seventh grade, must show proof that they have been vaccinated in order to attend class.
While the immunization requirement may have been a concern for some parents, students were more focused on learning as they headed back to their classrooms before the bell rang Tuesday morning.
Some children expressed excitement, but also first day jitters, as the new term began for the nation's second-largest district.
"It's very fun," one elementary school-age boy told KTLA when asked what he liked about classes.
His mother, Siobhan Walden, said she was sending her three young sons to the YES Academy in Hyde Park.
"They're excited, they're super excited. One's having a little bit of anxiety so we got him a little rock to kind of rub on while he's at school," she told KTLA outside the campus. "I think they're ready and they're like, going to execute the day," she added with a laugh.
Later, another youngster who was just starting school expressed his enthusiasm over being in the classroom.
"I'm going to write my name, and do my ABC's and 123's," Marcelle Coleman said excitedly with a smile. He was accompanied by his little sister who, at the age of 4, wasn't quite old enough for kindergarten yet, but also appeared eager to begin school.
Prior to the start of the term, the district touted a major achievement from the previous school year — its highest graduation rate in history.
The preliminary graduation rate of 75 percent also represented a 3 percent jump from the previous year, Superintendent Michelle King said earlier this month during her inaugural State of the District address.
King also revealed plans to expand certain "innovative educational models," including magnet and dual-languages, and to allow students to earn more community college credits in high school. Additionally, they would also be receiving more support.
"Students who complete these demanding programs are positioned for success, whether their post-secondary plans include community college, a four-year university or a career," she said in her address.
King, who was tapped to be the new superintendent at the beginning of the year, replaced the retiring Ramon Cortines. The 2016-2017 term marks her first full year leading the district.