This is an archived article and the information in the article may be outdated. Please look at the time stamp on the story to see when it was last updated.
So much school food goes wasted, tossed in the trash, uneaten. Each day in the Los Angeles Unified School District, students throw out at least $100,000 worth.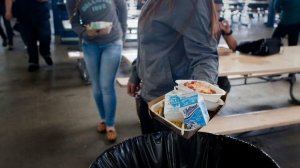 That works out to about 600 tons of organic waste daily, according to a 2015 study.
The district pushed for a new law to help change that — and this week Gov. Jerry Brown signed it.
The law allows campuses to collect unopened items and untouched fruit and donate them to food banks.
Read the full story on LATimes.com.