This is an archived article and the information in the article may be outdated. Please look at the time stamp on the story to see when it was last updated.
LOS ANGELES (KTLA) — The fate of some 200 L.A. Unified school employees is in question today, as the school board gets ready to vote on a new budget proposal.
Members of the teachers union planned to rally outside LAUSD headquarters Tuesday morning in advance of the vote.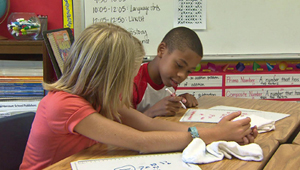 At issue is the fate of 208 LAUSD employees who are psychiatric workers, psychologists, counselors and librarians.
The teacher's union, many parents and others are saying that, if the employees lose their jobs, school safety may be at stake.
But LAUSD Superintendent John Deasy says that the talk of cuts is misleading, because the school board isn't actually laying off anyone.
"These are notices that there may be cuts if local schools don't hire them," Deasy explained.
"The money is in local school budgets. The union for years has strongly supported that schools have the right to hire with their local funds," he said.
"We are waiting for local schools to make that decision. If they don't make that decision, then that position may be lost, and they may hire something else."
"But the schools have to purchase the positions," LAUSD psychiatric worker John Paul Cabrera countered.
"It's either your all for the safety of our schools or you're not. You can't just pass the buck to the schools which are struggling to make it financially," he said.
Cabrera said he plans to talk to the school board about supporting the 208 positions and making sure they are not given layoff notices.
The school board plans to take up the issue on Tuesday afternoon. Before they do, there will be some time for public comment.
-Lynette Romero reporting