This is an archived article and the information in the article may be outdated. Please look at the time stamp on the story to see when it was last updated.
The father of UCLA freshman shooting guard LiAngelo Ball said Monday that he intended to withdraw his son from school over concerns related to the indefinite suspension he was issued last month for his acknowledged role in a shoplifting incident.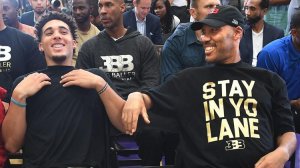 "He might as well be in jail," LaVar Ball, LiAngelo's father, told The Times. "I'm not going to let UCLA take the fire out of my boy by not letting him play for two months.
"We're going to do some other options. I'm not going to let him sit back and not practice."
In a statement released by the school, UCLA coach Steve Alford said he had not known of Ball's intention to withdraw until Monday. "We respect the decision he and his family have made," Alford added, "and we wish him all the best in the future."
Read the full story on LATimes.com. 
UCLA coach Steve Alford's statement: "We learned today of LiAngelo Ball's intention to withdraw from UCLA. We respect the decision he and his family have made, and we wish him all the best in the future."

— Ben Bolch (@latbbolch) December 4, 2017