This is an archived article and the information in the article may be outdated. Please look at the time stamp on the story to see when it was last updated.
Los Angeles International Airport officials were working to resume normal operations Sunday night following a report of an active shooter that proved to be false but caused a traffic mess in the area and led to some delayed flights and some evacuations, authorities said.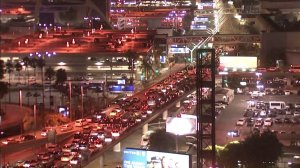 The incident began just after 9 p.m. when police began investigating reports of an active shooter at LAX.
"Police searching LAX after reports. All precautions being taken to ensure safety of public. Remain calm," the Los Angeles Airport Police Department tweeted around 9:15 p.m.
A short time later, police confirmed no shots had been fired.
"Report of shooting at LAX proven to be LOUD NOISES only. No shots fired; no injuries. Investigation continues to locate source," Andy Neiman, the commanding officer of the Los Angeles Police Department's Media Relations section tweeted.
The incident impacted the airport's operations, and traffic near the airport was jammed.
Officials have reopened the upper departures and lower arrival level roads into the Central Terminal area, and all terminals have been cleared as of 10:45 p.m., according to a statement from LAX spokeswoman Nancy Castles. Evacuated passengers would have to go through the screening process again at all terminals.
A ground stop that was initiated for flights departing for LAX lasted about 20 minutes before it was lifted at 10 p.m., CNN reported.
Passengers planning to fly out of LAX were encouraged to check with their airline for the status of their flight.
It was not immediately clear how many flights would be impacted as a result of the incident.
As the initial investigation was underway, photos and videos showed a chaotic scene at the airport.
One witness told KTLA she saw saw a man dressed as Zorro outside Terminal 7 just before the panic started.
"I turned around and I saw a man in a Zorro costume … greeting what appeared to be his girlfriend … she said to him, "I have one more bag to get. Wait out here.' And he turned and went down the sidewalk a little bit," said Paula Leonhauser. "I don't know whether that is the person who they were frightened of, but what happened next was the police yelled … at all of us to get down and get away."
Leonhauser added that she saw one officer draw a gun and thought there would be a "major shootout."
As the scene unfolded, panicked travelers dropped their bags and tried to get away, according to Leonhauser, who said some people even tried to climb up luggage chutes to hide.
"It was frightening. It was absolutely frightening. It was mayhem," she said.
The costumed Zorro was detained by airport police, LAX tweeted, providing no additional information.
Video shot by Twitter user Sam Macon showed the man being detained by officers who had their weapons drawn.
It was not immediately clear whether that incident was connected to the initial reports.
https://twitter.com/LAPDNeiman/status/770121782368043008
AIRPORT CTA ingress traffic closed for police activity. #LAXtraffic

— LA Airport PD (@LAAirportPD) August 29, 2016
Upper/Departures & Lower/Arrivals levels of Central Terminal Area (CTA) closed. Pls check w/ airlines if heading to LAX

— LAX Airport (@flyLAXairport) August 29, 2016
Reports of active shooter at LAX unconfirmed. Police investigating @flyLAXairport pic.twitter.com/NYpjoN54tV

— LA Airport PD (@LAAirportPD) August 29, 2016
LAX going off. pic.twitter.com/8hO7lqL5HG

— sam macon ✌️ (@sayczars) August 29, 2016
Before things got really crazy – a man in a Zorro costume with a plastic sword was arrested. pic.twitter.com/COdNEIb1pL

— sam macon ✌️ (@sayczars) August 29, 2016
https://twitter.com/sure_jan/status/770107653041389570