This is an archived article and the information in the article may be outdated. Please look at the time stamp on the story to see when it was last updated.
Local tourism in 2014 set its fourth record in as many years, city officials announced Tuesday, and Los Angeles International Airport exceeded its 14-year-old peak for airline travel and is now the nation's second-busiest airport.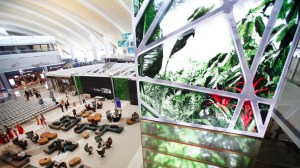 The airport handled more than 70 million passengers last year, far surpassing a record of 67.3 million travelers set in 2000, according to economic data released at a news conference at LAX.
The number of visitors to L.A. rose to 43.4 million, a significant gain over previous years including 2009 when visitors dropped to 34.4 million during the recession. And even more travelers are expected in the year ahead.
"The city has set a goal of 50 million visitors a year; we are well on our way to meet that goal," Los Angeles Mayor Eric Garcetti said. "This means billions of dollars injected into our economy. Los Angeles is serious about being the destination for people to visit in the US."
Click here to read the full story on LATimes.com.