This is an archived article and the information in the article may be outdated. Please look at the time stamp on the story to see when it was last updated.
Nick Pugh was standing near the Virgin America Airlines check-in counter at Los Angeles International Airport Friday morning when he heard gunfire.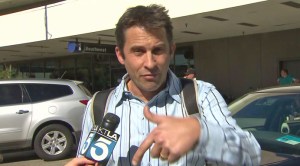 "Somebody started shooting and everyone dropped to the ground and started crawling," Pugh told KTLA 5 reporter Kacey Montoya during a live interview.
"It was definitely chaos… It was crazy," Pugh said. "I just saw an emergency exit and ran, or jumped out of that."
In the confusion,Pugh lost his wallet somewhere inside the airport.
Then as he ran away, law enforcement officers handcuffed Pugh, thinking he might be the gunman. They let him go a short time later.
During the incident, a TSA agent was fatally shot and two or three people were wounded, L.A. police Detective Gus Villanueva told KTLA 5.
A suspect was in custody after wounding multiple victims, the airport said on Twitter.
An image posted from inside Terminal 3 showed a rifle on the ground in a gate area along with what appeared to be bloody clothing.
An FAA flight map showed flights coming into LAX were being delayed, and the airport's Twitter account said departing flights had been stopped. Vehicle traffic was also stopped.