This is an archived article and the information in the article may be outdated. Please look at the time stamp on the story to see when it was last updated.
LOS ANGELES (KTLA) — The Tom Bradley International Terminal at LAX is getting a much-anticipated $1.5 billion makeover.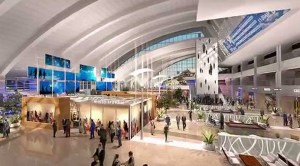 It is getting upgraded gates and amenities to help travelers pass through the terminal faster and more efficiently.
There will be over 100,000 square feet of restaurant and retail space in the Great Hall, ranging from high-end to budget-friendly.
The terminal will also be filled with daylight, with more than 5,000 panes of glass used for floor-to-ceiling windows and skylights.
Every seat in the terminal will also have its own port so you can charge up your electronic devices.
The architect behind the new terminal is Curtis Fentress, who has worked on many of the world's most celebrated airports, including Denver International.
"It really is a city unto itself," explains Fentress architect Scott Bergstrom.
"As people are spending more time inside the airport, having certain amenities such as shopping, dining and even spa services are becoming very popular."
Bergstrom also says that the security program is being completely re-organized to be much faster.
"In-bound passengers will notice that particularly," he says. "The time to go from airside to curbside will not be about 30 minutes to get through customs and immigration."
A portion of the new terminal already opened, but the entire terminal is not going to open until later this year.
You can get a sneak peek at what the new terminal will look like by checking out a special exhibit at the Santa Monica Airport's Museum of Flying.
The "Now Boarding" exhibit features a 24-foot scale model of the terminal, as well as an animated video tour.
For more information, visit: http://www.nowboarding.org/la-exhibit/