This is an archived article and the information in the article may be outdated. Please look at the time stamp on the story to see when it was last updated.
The Bearskin fire burned nearly 30,000 acres in Idaho. The Chetco Bar fire torched 191,000 acres near the Oregon coast. The Lodgepole Complex fire, the largest of 2017, ignited 270,000 acres in Montana.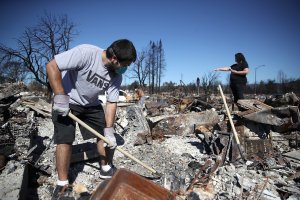 And in Northern California this fall, fast-moving fires killed at least 44 people.
As wildfires — deadly, destructive, depressing — continue to wreak havoc across the West, governors and local elected officials are trying to work together to combat them.
On Friday, that collaboration was on display at the Western Governors' Assn. conference in Phoenix as leaders of states ravaged by wildfires — red states and blue states alike — discussed ways to prevent future destruction by working with one another and the federal government.
Read the full story on LATimes.com.