This is an archived article and the information in the article may be outdated. Please look at the time stamp on the story to see when it was last updated.
Music legend Tom Petty was rushed to UCLA Medical Center in Westwood on Sunday because of a heart issue, but there has yet to be official confirmation that the 66-year-old singer has died, contrary to a since-retracted report Monday by CBS News.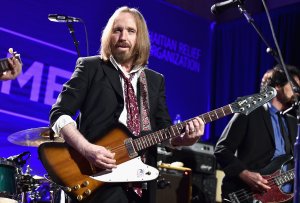 Law enforcement officials told the Los Angeles Times that Petty was hospitalized following a cardiac incident Sunday night.
Around 1 p.m. Monday, CBW News reported that it had confirmed the death of the rock musician. The news apparently came from the Los Angeles Police Department, which later clarified over Twitter that the agency had "no information" about the singer and "no investigative role" in his health.
Adding to the confusion, the Hollywood Historic Trust sent out a news release after reports of Petty's death that they would be placing flowers on his Walk of Fame star.
They later sent out a statement retracting the earlier news release, writing, "We have not as yet received confirmation from Tom Petty's team or from the coroner that he has in fact passed." 
TMZ, the first outlet to report the death, retracted its report — which was also apparently based on false information from LAPD — even before CBS News.
(1/2)The LAPD has no information about the passing of singer Tom Petty. Initial information was inadvertantly provided to some media sources

— LAPD HQ (@LAPDHQ) October 2, 2017
(2/2) However, the LAPD has no investigative role in this matter. We apologize for any inconvenience in this reporting.

— LAPD HQ (@LAPDHQ) October 2, 2017
The outlet then revised its story to say Petty was "still clinging to life" in the hospital after suffering a heart attack in Malibu home.
The 66-year-old rocker recently performed three nights at the Hollywood Bowl on Sept. 21, 22 and 25 as part of a 40th-anniversary tour for his band, Tom Petty and the Heartbreakers.
A true rock icon, Petty was one of the musicians at the forefront of the southern rock movement in the 1970s.
The Gainesville, Florida, native rose to fame with the band, who found their first hit with the 1977 release of the single "Breakdown." The band remained active through multiple decades and recorded more than 10 albums together, most recently releasing "Hypnotic Eye" in 2014.
In the late '80s, Petty also began forging a solo career that would catapult him to a household name. He continued to find chart success well into the 1990s, with songs like "Free Fallin" and "You Don't Know How It Feels".