This is an archived article and the information in the article may be outdated. Please look at the time stamp on the story to see when it was last updated.
A man who allegedly stabbed and killed his ex-girlfriend outside a church in West Compton this week was arrested in Texas Saturday after a lengthy standoff, officials said.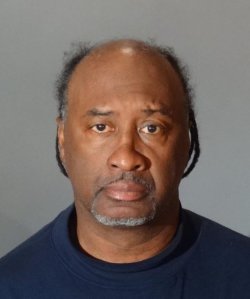 Authorities in Pflugerville, Texas took 55-year-old Lynwood resident Kevin Darnell Dickson into custody after the suspect refused to surrender and barricaded himself inside a home for several hours, according to the Los Angeles County Sheriff's Department.
The agency believed the homeowner to be Dickson's ex-wife, who was not at the residence at the time of the standoff.  She cooperated with investigators, apparently unaware that Dickinson was a murder suspect in California, the Sheriff's Department said.
Deputies said they had learned that Dickson planned to go to Pflugerville and worked with the Austin County Sheriff's Office, the U.S. Marshals Service and the Austin Police Department to locate and arrest him.
Officers had been seeking the suspect for the death of Patricia Harrison, a 50-year-old Lynwood woman believed to be Dickson's ex-girlfriend.
Authorities responded to a call on Wednesday evening about an assault with a deadly weapon at a church parking lot on the 14500 block of South San Pedro Street in West Compton, an unincorporated region of Los Angeles County. Deputies reported finding the victim on the ground  with multiple stab wounds.
Harrison was transported to a hospital, where she was pronounced dead.
In announcing the incident, the Sheriff's Department warned that Dickson might have been armed and dangerous and possibly suicidal.
It was unclear if the weapon, which had not been found, remained outstanding.
Dickson was set  to await extradition to L.A. County at Travis County Jail in Austin, the Sheriff's Department said.
Anyone with information can call the Sheriff's Department's homicide bureau at 323-890-5500. Those who wish to remain anonymous can contact Crime Stoppers by calling 800-222-TIPS (8477), using the mobile app "P3 Tips" or visiting lacrimestoppers.org.