This is an archived article and the information in the article may be outdated. Please look at the time stamp on the story to see when it was last updated.
A veteran teacher and coach at Whittier Christian High School in La Habra was reinstated Thursday, nearly a week after he was suspended for appearing in a racy skit on the 'Tonight Show" with Jay Leno.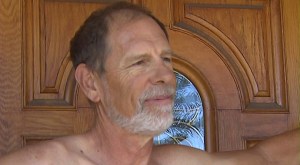 Steve Endemano was a "Tonight Show" audience member featured in a comedic "sizzle reel" with Jay Leno. After explaining to Leno that he teaches Bible, physics and calculus, Endemano told the late-night host that his dream was to be a professional cyclist.
"I love to ride bikes," Endemano said during the 2 1/2-minute segment. "I'm only 64."
Then Leno introduced a fake movie trailer for a film about Endemano's battle to be a professional cyclist despite his age. Part of the joke was that he believes he can win without the performance-enhancing drugs that have caused scandal in the world of professional cycling.
Watch the video here: http://www.nbc.com/the-tonight-show/video/audience-sizzle-reels-part-1/n40181
When a younger cyclist in the locker room is revealed to be taking steroids, Endemano tells him he's "dirty."
The younger cyclists then mocks Endemano's age, at which point the teacher drops his towel, standing naked while facing the man.
"Oh my God, they're huge," the younger athlete exclaims, looking at Endemano's crotch.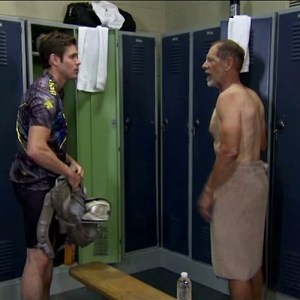 The trailer was for a fake film titled, "Get Some Balls: The Steve Endemano Story."
School administrators released a statement Thursday regarding Endemano's suspension:
You may be aware of the recent situation regarding a WCHS teacher's appearance on the Jay Leno show. There is conversation going on in the social media arena, and it may very well end up on the local news.
The WCHS Leadership team, with the support of the WCHS Board of Directors, is prayerfully working through this situation. Please have confidence that decisions will not be made in a reactive manner – but in a thoughtful, prayerful process – with an abundance of counsel.  Please pray for all involved.
Earlier, parents and students created a Facebook page titled Justice for Mr. Steve Endemano.
Reaction on Facebook to the Leno video was generally supportive of Endemano.
Aaron Oberst wrote, "He's one of the best teachers I've ever had and a tremendous role model. Now I know he also has a great sense of humor."
"Just watched the YouTube clip and I must say it's pretty funny. Go Steve Endemano," Alex Salas posted.
"…maybe it wasn't the wisest choice but as Christians we make mistakes too even the wisest people and Endemano is the wisest man I have come across while attending wchs and I would like him to continue to teach me," Emily Cook wrote.
"The video is wrong, but he deserves the respect of being talked to. I think he should have been written up, etc. and been allowed to teach the next day." Keith Murrell posted.
Endemano said he was touched by the outpouring of support.
"I appreciate the support the kids have given me," Steve Endemano said.
As for his decision to participate in the video, Endemano would only say, "I regret the conflict it has caused."