This is an archived article and the information in the article may be outdated. Please look at the time stamp on the story to see when it was last updated.
An unconscious surfer who was pulled from the ocean in Malibu Tuesday amid unusually large waves has died, authorities said.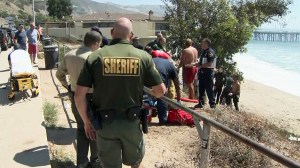 The distress call in the 23000 block of West Pacific Coast Highway (map) came in at about 11:20 a.m., according to Inspector Rick Flores of the Los Angeles County Fire Department.
The man, who was in the water and unconscious when rescuers got to him, had been surfing near the Malibu Pier, according to Capt. Eric Howell of the Fire Department's Lifeguard Division.
Lifeguards placed the man on a rescue board and swam back to shore with him, video showed.
At one point during the rescue, a large wave knocked the man off the board and back into the water. Lifeguards quickly grabbed the man and carried him the rest of the way to the beach.
Medical personnel administered CPR before he was taken to a local hospital by ambulance, video showed.
Lt. Larry Dietz with the county coroner's office later confirmed the man had died.
The surf was about 4 to 6 feet at the time of the incident and was increasing by the minute, said Howell.
"The conditions are extremely dangerous right now. If you're not extremely experienced, you don't want to be surfing," Howell said.
A south swell was expected to produce increased surf through Wednesday before a small decrease on Thursday, according to Howell, who added that rescue staffing has been increased due to the conditions.
More Video: