This is an archived article and the information in the article may be outdated. Please look at the time stamp on the story to see when it was last updated.
Sheriff's deputies were investigating the crash of a single engine plane that came down near a residential neighborhood in Rancho Cucamonga on Friday evening.
A call came in around 6:16 p.m. stating a plane was seen flying very low and crashed into a dirt-graded lot below the foothills at Almond Street and Haven Avenue, according to Jodi Miller, spokeswoman for the San Bernardino County Sheriff's Department.
Witnesses reported hearing the plane's engine sputtering as it neared a group of homes.
Somehow the pilot managed to avoid hitting the homes and nearby powerlines even after the propeller stopped, witnesses said.
The pilot even came close to making a safe landing.
"Unfortunately there is a … five foot berm of dirt and it looks like it just missed clearing that," according to Sgt. Mario Salazar of the sheriff's department.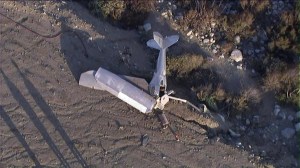 The pilot had already been pulled from the wreckage by witnesses before paramedics arrived, according to Battalion Chief Eric Noreen with San Bernardino County Fire.
He was listed as having major injuries and was airlifted to Arrowhead Regional Medical Center.
On Saturday, spokesperson Jodi Miller with the San Bernardino County Sheriff's Department identified the pilot as Ethin Gadis.
No one on the ground was hurt.
The FAA identified the plane as a single-engine Luscombe 8A.
More Video: