This is an archived article and the information in the article may be outdated. Please look at the time stamp on the story to see when it was last updated.
Hours after authorities responded to reports of gunfire at a Thousand Oaks bar, 13 people have been declared dead as new details are emerging about the suspect Thursday morning — including what one neighbor described as unexplainable "beating" sounds at the alleged gunman's home.
Since shots broke out at the bar late Wednesday night, Ventura County sheriff's officials have identified the suspected gunman as 28-year-old Ian David Long.
About 7:30 a.m., law enforcement officials could be seen standing outside Long's home in Newbury Park as they awaited search warrants to enter. By 8 a.m., FBI investigators were seen entering the home.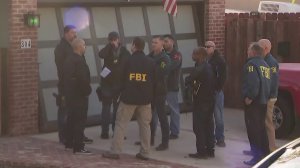 Meanwhile, neighbors spoke with reporters outside the residence – a typical suburban home in a quiet neighborhood. One of them described a young man who lived with his mother and began serving in the military right after high school.
A U.S. Marine Corps veteran, Long seemed to struggle since returning from his tour of duty in Afghanistan, according to Tom Hanson, one of his neighbors. Long had returned to his mother's home and had been living with her for the past six to eight years, Hanson said.
Hanson once called authorities on Long after hearing a series of loud banging noises. He couldn't recall when exactly it happened but Ventura County sheriff's officials have said they were called to the home in April.
"Sounded like he was tearing down the walls of the house — like someone's just beating on the walls with a big hammer," Hanson said.
"It would start and then it would stop and then it would start and then it would stop and then it would get really loud and I hear this shouting," he said. "I thought 'Man, what's going on out here?' … I mean it's a quiet neighborhood."
"I said, 'This is abnormal,'" Hanson recalled.
The neighbor said he decided to call authorities out of concern.
"I didn't know if he was hurting himself," he said.
Sheriff's officials, including detectives and mental health experts, responded to the home and were there for "quite a while," Hanson said.
Hanson said he didn't want to "judge" Long's state of mental health, admitting he's not in a position to do so, but he assumed the military veteran had gotten some sort of help.
"I assumed he was getting some type of mental health treatment and follow-up on that," Hanson said. "Since that time, there has not been any more of those types of problems here."
Hanson said he believed Long had post-traumatic stress disorder. Close neighbors in the tight-knit community of Newbury Park "knew he had issues," Hanson said.
Outside of the incident, Long seemed to live a quiet life with his mother and their three dogs, according to Hanson, who described them as baseball fans who went to Dodger games.
But he wondered what sorts of issues Long was facing.
"I had assumed that he had problems."