This is an archived article and the information in the article may be outdated. Please look at the time stamp on the story to see when it was last updated.
Aspiring rapper "Lil Za" was sentenced to three years felony probation Wednesday in connection with his arrest for drug possession during a raid at Justin Bieber's home in January.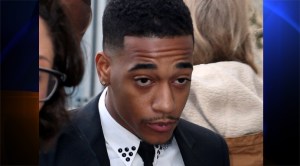 Xavier Domonique Smith, who performs under the stage name "Lil Za," pleaded no contest Wednesday to one felony count of possession of a controlled substance, ecstasy, and a misdemeanor count of damaging a prison or jail.
In addition to probation, Smith was also ordered to perform 20 days of Caltrans or similar community labor, enter a drug program, pay a $1,000 fine and $600 in restitution, according to a news release from the Los Angeles County District Attorney's Office.
The 20-year-old was arrested on January 14 during a search of Bieber's Calabasas home in connection with an alleged egg-throwing incident.
During the search, Los Angeles County Sheriff's deputies found drugs belonging to Smith, the release stated.
While in custody at the sheriff's station, prosecutors alleged Smith damaged a phone in a holding cell when he tried to pull it off the wall.