This is an archived article and the information in the article may be outdated. Please look at the time stamp on the story to see when it was last updated.
Some evacuation orders were lifted Friday evening in the Lilac Fire as containment of the 4,100-acre blaze burning in San Diego County rose to 15 percent.
The blaze has destroyed at least 105 structures since breaking out Thursday morning in the Bonsall area, between Carlsbad and Temecula, according to Cal Fire. About 1,500 structures remained threatened.
On Friday, crews were working to stop forward progress of the flames that were covering an area east of Oceanside, north of Vista and along the southern portion of Fallbrook.
Evacuation orders were changed to an "evacuation warning" for several neighborhoods at 5 p.m.
#LilacFire [update] Please see attached images for a news release regarding repopulation. pic.twitter.com/8ZnlmMXR5v

— CAL FIRE/SAN DIEGO COUNTY FIRE (@CALFIRESANDIEGO) December 9, 2017
The flames had carved an unpredictable path through vegetation and homes alike and burned so intensely metal from destroyed vehicles' hubcaps melted into a stream pouring down driveways.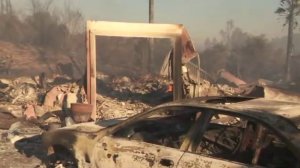 Strong winds were blowing the flames east on Friday, and dry brush combined with low humidity meant they could spread swiftly. Crews were still working just to stay ahead of the forward progress, according to Cal Fire Capt. Kendall Bortisser.
"As we know, when a tornado hits the Midwest there's no stopping it. When a hurricane hits the east coast, there's no stopping it," he said. "When the Santa Ana winds come in, there's no stopping them."
Four civilians have been hurt, at least two of them burned, but officials have not provided details on their injuries or conditions. Two firefighters were also injured, Cal Fire said.
Mandatory evacuations remained in place for around 10,000 area residents, and some were warned to be ready to leave their homes at a moments' notice.
More than 1,000 homes in Bonsall, San Louis Rey, Vista and Oceanside were still under threat, along with several businesses, according to the Federal Emergency Management Agency (FEMA).
Evacuation was mandatory for areas including:
• West Lilac Road and Sullivan Middle School
• South of Burma Road
• East of Wilshire
• North of N. River Road
• West of S. Mission Avenue
• South of Renche Road
• West of the 15 Freeway
• East of Green Canyon Road and S. Mission Road
• North of Highway 76
Shelters were open to humans and pets at:
• Palomar College: 1440 W. Mission Road in San Marcos
• East Valley Community Center: 2245 E. Valley Parkway in Escondido
• Bostonia Park & Recreation Center: 1049 Bostonia St. in El Cajon
Additional shelters at Oceanside High School and Stagecoach Community Park were at capacity, Red Cross officials said. About 900 people were being housed in area shelters, an estimated 10 percent of total evacuees, according to San Diego County Sheriff Bill Gore.
The Del Mar Fairgrounds were also open for large animals.
Across the county, 20,000 people were without power, which could cut off the water supply for some with well water. Residents were urged to prepare with flashlights, batteries, battery operated radio and a phone that doesn't require electricity.
About 150 law enforcement personnel were assigned to patrol road closures and ensure neighborhoods remained secure, Gore said.
The Sheriff's Department had issued more than 100,000 alert notifications in connection with the fire, Gore added. Officials said residents can sign up to receive alerts at ReadySanDiego.org, though the website was down Friday morning.
Updates can also be obtained on Twitter via @ReadySanDiego or in Spanish via @ListoSanDiego.
The San Diego County Office of Education released a list of school closures:
• Bella Mente Montessori Academy
• Bonsall Unified School District
• Carlsbad Unified School District
• Classical Academy and Classical Academy High School
• Coastal Academy
• Epiphany Prep: Escondido
• Escondido Charter High School
• Fallbrook Union Elementary School District
• Fallbrook Union High School District
• Guajome Park Academy
• Heritage K-8
• Julian Union Elementary School District
• Julian Union High School District
• Momentum Learning juvenile court and community schools (operated by SDCOE: Youth Day Center, Breaking Cycles North County, Innovations Academy of Empowerment, North County Technology Academy)
• Mountain Empire Unified School District
• North County Academy
• North County Trade Tech High School
• Oceanside Unified School District
• San Marcos Unified School District
• Scholarship Prep
• Spencer Valley School District
• Vista Unified School District
• Warner Unified School District
Classes were also canceled on Friday at all schools in the Temecula Valley Unified School District, as both the Liberty and Lilac fires raged nearby.
The Legoland Resort in Carlsbad announced it was also shuttered Friday out of consideration for employees who were impacted.
Friday marks the fifth day since wildfires began ravaging Southern California, and President Donald Trump declared a state of emergency surrounding the numerous incidents spanning hundreds of square miles. A statewide emergency declaration had previously been issued by Gov. Jerry Brown.
On Thursday, FEMA approved the use of federal funding to combat the Lilac Fire. Resources were also pouring in from various states, including Montana, Utah, New Mexico, Idaho, Arizona, Oregon and Nevada, officials said.
Extreme fire danger would linger through Sunday due to the intense Santa Ana winds expected to continue bellowing through Ventura and Los Angeles counties, the National Weather Service said.
Additional information can be found at SDCountyEmergency.com and SDCountyRecovery.com. Residents working through the recovery process can also contact countyfirerecovery@sdcounty.ca.gov.
KTLA's Melissa Pamer contributed to this article.
#LilacFire mapping of the fire perimeter #SantaAnaWinds pic.twitter.com/HQEhVJqHjH

— NWS San Diego (@NWSSanDiego) December 8, 2017
Video from our Strike team at the #LilacFire No fires in city of SD now but please be prepared. Ready, Set, Go! guide is available in Eng/Span at https://t.co/NIVx33Axiv
Don't wait until fire like this is at your doorstep. Leave early. pic.twitter.com/YYy7zrfeqG

— SDFD (@SDFD) December 8, 2017
San Diego County's Lilac fire explodes to 4,100 acres https://t.co/ufJvi6lEKy pic.twitter.com/6rUqhwoozE

— Los Angeles Times (@latimes) December 8, 2017
Updated #LilacFire shelter information: pic.twitter.com/anDN9NAoke

— SDIC Red Cross (@SDICRedCross) December 8, 2017
All lanes now open on eastbound I-8 at SR 79. #SDCaltransAlert

— Caltrans San Diego (@SDCaltrans) December 8, 2017
Extreme fire danger due to the long duration #SantaAnaWinds is expected to continue across much of Los Angeles and Ventura Counties through Sunday. #cawx #laweather #SoCal #Thomasfire #Creekfire #Ryefire #Skirballfire pic.twitter.com/TNLLrsKVcm

— NWS Los Angeles (@NWSLosAngeles) December 8, 2017