This is an archived article and the information in the article may be outdated. Please look at the time stamp on the story to see when it was last updated.
Cedrick Argueta, a senior at Abraham Lincoln High School in Lincoln Heights, was one of only 12 students in the world to earn a perfect score on the exam.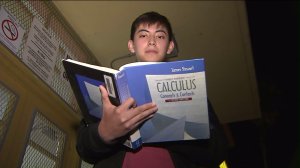 The 17-year-old was among 302,532 students to take the Advanced Placement Calculus AB exam, which tests the fundamental theories of calculus in a series of multiple-choice and free-response problems, according to a news release from the Los Angeles Unified School District.
Cedrick, whose mom is a nurse and dad is a maintenance worker at a convalescent home, said he spent hours studying for the exam.
"Leading up to the exam we spent about two or three hours every day after school," he said.
Cedrick also earned perfect scores on the English and math sections of the ACT college-entrance exam, the district said.
"It's amazing. I'm so, so proud of him," his mother said.
Cedrick's ultimate goal is to study at Caltech and one day work at NASA's Jet Propulsion Laboratory.