This is an archived article and the information in the article may be outdated. Please look at the time stamp on the story to see when it was last updated.
The Sam's Club in Sylmar, one of three locations in Southern California that will permanently close their doors, is offering 25 percent on most products from Friday through at least Sunday.
A lengthy line extended out the door to get into the store on Foothill Boulevard when KTLA visited it on Friday afternoon. The announcement the locations would close was handed down just the day before and came as a surprise to club members and employees alike.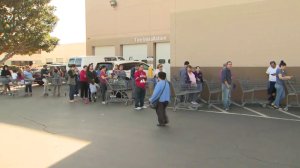 The other two local locations that will close, Stanton and City of Industry, were also offering 25 percent off, store representatives said. The discount applies to nearly all items, but tobacco products and some electronics are excluded.
Next week, the discount is expected to increase to 50 percent, but the store could not confirm what day that would happen.
Sam's Club member Sarah Espinoza said she'll miss the store as she enjoys shopping at both Costco and Sam's Club.
Espinoza had visited the Sylmar store the day its closure was announced but decided to go back the next day when she learned about the promotion.
"We came by last night to do a little bit of shopping and they had the signs on the door saying that it was closing and that everything was going to be on sale for the next several days. So, we're like, 'Let's come back,'" she said.
It still is not clear when exactly the stores will shutter, although one employee told KTLA the last day he is scheduled to work there is Jan. 26.
But under the Worker Adjustment and Retraining Notification Act, workers must be given 60 days notice before a closure or mass layoff.
Walmart, which owns Sam's Club, has confirmed little else about the closures that affect more than 50 locations across the U.S. While 53 stores will shut down completely, 10 will be converted into fulfillment centers, but it's still unclear which.
Sam's Club CEO John Furner explained the reasoning behind the decision in a letter to employees that was made public.
"After a thorough review, it became clear we had built clubs in some locations that impacted other clubs, and where population had not grown as anticipated," Furner wrote. "We've decided to right-size our fleet and better align our locations with our strategy."