This is an archived article and the information in the article may be outdated. Please look at the time stamp on the story to see when it was last updated.
FRESNO, Calif. — A 350-pound African lion opened the gate of a pen at a California big cat sanctuary, then moved into a larger enclosure where it killed an intern at the expansive facility, a local coroner said.
Citing investigators, Fresno County coroner Dr. David Hadden said Dianna Hanson, 24, was cleaning a main enclosure at Project Survival Cat Haven, thinking she was safe from two lions that had been inside before.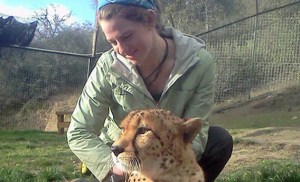 But somehow, one of those animals — a 4-year-old lion named Cous Cous — escaped and attacked her.
"(Hanson) died very quickly and did not suffer," Hadden said.
A preliminary autopsy showed that Hanson died of a "broken neck and other neck injuries," the local coroner said.
The lion inflicted other injuries "postmortem."
A preliminary autopsy suggested that Hanson died quickly from a fractured neck and "some suffocation," said Fresno County Coroner David Hadden.
The neck injury appeared to come from a swipe from the lion's paw.
The body had "numerous claw marks and bite damage" elsewhere, likely inflicted after the initial swipe, Hadden said.
Before Dabbas spoke Thursday, Dale Anderson, the haven's founder, confirmed Hansen died of a broken neck.
"She died instantly, he said.
Her father, Paul Hanson, says he and his family are grieving, taking comfort in the fact that Dianna Hanson died doing what she loved — taking care of big cats such as Cous Cous.
"She was so happy," he told CNN. "This was just her dream job."
The autopsy finding on Hanson will be reviewed by a veterinarian at the California Department of Fish and Wildlife, which is conducting the necropsy on the lion.
An investigation continues into how the lion got out of the den where he was feeding and into the larger enclosure where Hanson was cleaning and chatting on the phone.
Earlier Thursday, the Dunlap, California, sanctuary's founder insisted that safety protocols were followed at the Northern California facility before Hanson's death.
"We have been incident-free for 16 years since we opened in 1998," he said. "We are cooperating fully with the sheriff's department investigation and hope we can determine exactly what happened."
He teared up and couldn't finish his statement when he began to talk about Hanson.
"Our whole staff is … its just, it's devastating," he said.
Anderson declined Thursday to offer more details, citing the investigation being conducted by authorities.
The Fresno County Sheriff's Office said that when the lion attacked, another employee at the sanctuary tried to distract him away from Hanson and move him into another enclosure.
"But all attempts failed," the office said.
A sheriff's deputy shot and killed the animal to reach Hanson and give her medical assistance.
However, it was too late, and she died at the scene.
The attacking lion, Cous Cous, was one of the late Seattle resident's favorites, according to her father.
The lion was also a celebrity of sorts, having appeared on Ellen DeGeneres' television show when he was about 3 months old.
Noted animal expert Jack Hanna said a big cat can be unpredictable in the way it reacts to what it sees or hears.
"They are wild animals, end of story," he said. "No matter what anyone says, they are wild animals."
Fatal lion maulings are rare in the United States, though not unprecedented.
Twenty people, including five children, have been killed by big cats in the United States in the past 21 years, according to figures kept by Big Cat Rescue, a nonprofit cat sanctuary in Tampa, Florida.
Another 246 people were mauled in the United States during that same time period, 1990 to 2011, the group said. The group's website did not have figures for 2012.