This is an archived article and the information in the article may be outdated. Please look at the time stamp on the story to see when it was last updated.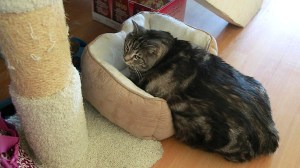 They call him Little Dude, but he's got a big problem.
At 33 pounds as of his last weigh-in, the filled-out feline has a dark gray coat that, when he lies on his considerable belly, makes him look not unlike a baby seal.
But his average-size face, marked by big, soulful eyes and thick stripes of silver and black, hints at the slimmer 15-pound cat that lives beneath.
The goal, said Angela Jackson-Brunning — who is fostering Little Dude at her house in Costa Mesa — is to slowly get the cat down to a manageable weight before he is adopted by a "forever family."
Potential adopters can view Little Dude's Facebook profile to check on his progress.
More information on adoption can be found at WAGS Pet Adoption.
Click here to read the full story on LATimes.com.